Viewed 3 times...
Silk soya | Grocery Stores Near Me
Sponsored Products
Short Description
Silk Soy Beverage Fortified, UnsweetenedFiltered Water, Whole Organic Soybeans, Fructooligosaccharide (NutraFlora), Calcium Carbonate, Sea Salt, Natural Flavours, Carrageenan, Acidity Regulator (Sodium Bicarbonate), Anti-Foam (Organic Soybean Oil, Silicon Dioxide),
zinc
Gluconate,
vitamin a
Palmitate, Vitamin D2, Riboflavin (B2),
Vitamin B1
2. Not to be used as infant formula.Shake well & buy often. Keep refrigerated. Silk will stay fresh for 7-10 days in refrigerator after opening. Same smooth and delicious taste. Lactose free. Made with organic soybeans. Contains NutraFlora, a prebiotic. Crafted for you - and the planet. Every drop of Silk begins with soy - a complete, natural, plant-based protein. We use only best-quality whole soybeans, grown without genetic engineering right here in North America. Simple methods and pure ingredients are all it takes to bring out our distinctive Silk taste. We know how much you care about what goes into your body. That's how much we care about what goes into our cartons. Perishable. Certified organic by Quality Assurance International. Product of the USA. Warnings Not to be used as infant formula.
Long Description
| | |
| --- | --- |
| Details: | |
| Wikipedia: | Visit |
| Manufacturer: | ? |
| Origin: | |
| Barcodes: | |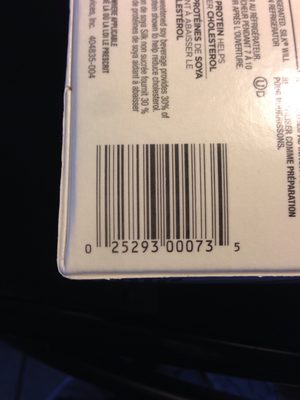 | Nutrition Facts | | | |
| --- | --- | --- | --- |
| Serving Size: | | | |
| Ammount per Serving: | | | |
| Calories: | | | kcal |
| | | Details in % | Daily Value |
| Total Fat | | % | g |
| Satured Fat | | % | g |
| Trans Fat | | % | g |
| Polyunsatured Fat | | % | g |
| Monounsatured Fat | | % | g |
| Cholesterol | | % | mg |
| Sodium | | % | mg |
| Potassium | | % | mg |
| Total Carbohydrate | | % | g |
| Dietary Fiber | | % | g |
| Sugars | | % | g |
| Other carbohydrate | | % | g |
| Protein | | % | g |