Viewed 2935 times...
Brewers Yeast Flakes for Lactation Cookies, Breastfeeding Supplement to Boost Mother's Milk (1 Pack) - Non Fortified, Unsweetened - Kosher, Gluten Free, Non GMO, Vegan, Plant Based Protein Powder | Grocery Stores Near Me
Sponsored Products
Short Description
ONLY BREWER'S YEAST WITH FOLATE: Our brewers yeast powder is the only one that contains Folate, the natural form of folic acid. Folate (
Vitamin B9
) helps bodies make new proteins, support red blood cell growth, and more. It's a popular supplement during pregnancy. LOOKING FOR A NATURAL BOOST IN ENERGY LEVELS?: If so, this amino energy powder is an excellent choice. It's naturally packed with B vitamins, protein, and trace minerals, so it help boost energy levels, muscle development, and recovery from workouts and training. YES, THIS NATURAL
Protein Powder
IS GLUTEN-FREE: Most brewer's yeast products are grown on a medium of corn or other grain, so it's not suitable for paleo, keto, or celiac diets. Lewis Labs Brewer's Yeast is not, so it's gluten-free.
supplements
PROUDLY MADE IN THE USA: All of the premium supplements we create are sourced and made in the USA from the finest ingredients. We never cut corners. It's one the reasons customers have trusted our supplements since 1973. WE STAND BEHIND ALL OF OUR PRODUCTS: When you order today, rest assured knowing that your order is backed by a 30 day money back guarantee. If you're not satisfied, we'll take the supplement back for a full refund. No questions asked.
Long Description
| | |
| --- | --- |
| Details: | |
| Wikipedia: | Visit |
| Manufacturer: | ? |
| Origin: | |
| Barcodes: | |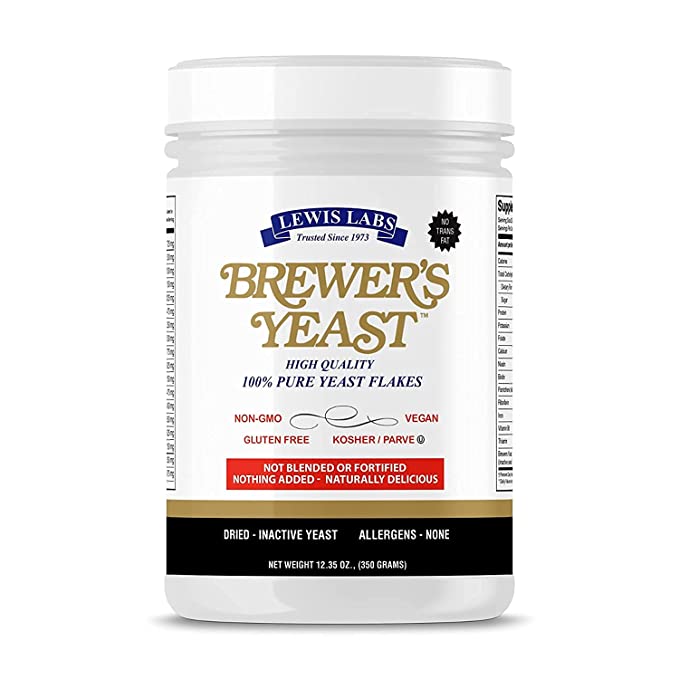 | Nutrition Facts | | | |
| --- | --- | --- | --- |
| Serving Size: | | | |
| Ammount per Serving: | | | |
| Calories: | | | kcal |
| | | Details in % | Daily Value |
| Total Fat | | % | g |
| Satured Fat | | % | g |
| Trans Fat | | % | g |
| Polyunsatured Fat | | % | g |
| Monounsatured Fat | | % | g |
| Cholesterol | | % | mg |
| Sodium | | % | mg |
| Potassium | | % | mg |
| Total Carbohydrate | | % | g |
| Dietary Fiber | | % | g |
| Sugars | | % | g |
| Other carbohydrate | | % | g |
| Protein | | % | g |