Viewed 2900 times...
Amrita 14OZ Overnight Protein Oats – Blueberry Hemp, 15gm Protein/Breakfast - Low Sugar Oatmeal, High Fiber - Creamy with Coconut Milk - 100% Allergen, GMOs, Gluten Free (5 Servings) | Grocery Stores Near Me
Sponsored Products
Short Description
?  AMRITA FOODS CARE FOR YOU - Mornings for most of us are usually busy and time-pressed. This is why we give you easy food options to put together a meal in no time. All you need to do is mix milk or milk substitute with Amrita oatmeal and chill it in the fridge overnight. Enjoy tongue-tingling Creamy Blueberry Oatmeal Protein ? KNOCK KNOCK - SORRY, GLUTEN NOT PERMITTED!! Having issues because every food look more scrumptious because you're on a diet. Don't you worry folks? Our breakfast cereal strikes the right balance between health & taste. With only 2gr of added
sugar
in the form of Coconut sucrose, Amrita GMO, Gluten free Rolled Oats is the complete meal for intermittent fasting or post workout shake ☑ YOU GOTTA NOURISH TO FLOURISH – What's better on a cool morning than a hearty bowl of oatmeal with so much health benefits? Our Oats are loaded with dietary fiber that will help keep the gastrointestinal tract running smoothly. 6 Grams of Fiber with less than 240 Calories per serving will aid you in weight loss, lower blood sugar levels and a reduced risk of heart diseases ? BLUEBERRY OATS - YOUR PERFECT SNACK PARTNER! Want to jazz up the morning meal that you can have ready overnight while you rest and so delicious that it will put a smile on your face. The secret? Amrita Overnight Oatmeal. Eating our nutritious oats will keep you energized throughout the day, hence lessening the chance of mid-meal snacking or weird-time bingeing. ? IF YOU LOVE CEREAL, YOU'LL LOVE US - Made from 100% real ingredients which include Dates, Coconut Milk, Dried Blueberries, Cinnamon and Sea Salt. All our products come with a complete MONEY-BACK GUARANTEE without any questions asked because we stand by what we promise. What's your excuse then? Try it now and see!
Long Description
| | |
| --- | --- |
| Details: | |
| Wikipedia: | Visit |
| Manufacturer: | ? |
| Origin: | |
| Barcodes: | |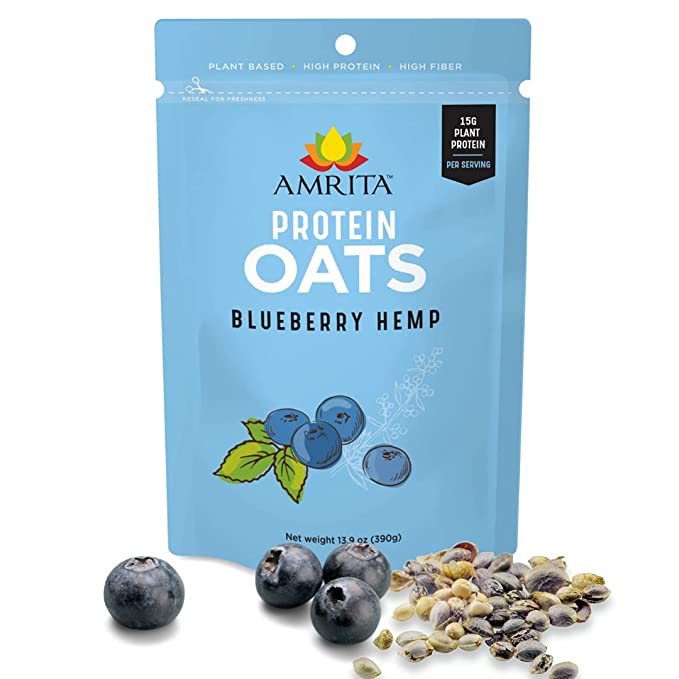 | Nutrition Facts | | | |
| --- | --- | --- | --- |
| Serving Size: | | | |
| Ammount per Serving: | | | |
| Calories: | | | kcal |
| | | Details in % | Daily Value |
| Total Fat | | % | g |
| Satured Fat | | % | g |
| Trans Fat | | % | g |
| Polyunsatured Fat | | % | g |
| Monounsatured Fat | | % | g |
| Cholesterol | | % | mg |
| Sodium | | % | mg |
| Potassium | | % | mg |
| Total Carbohydrate | | % | g |
| Dietary Fiber | | % | g |
| Sugars | | % | g |
| Other carbohydrate | | % | g |
| Protein | | % | g |