Viewed 3640 times...
ProLife - Effervescent Tablets (Magnesium, +B Complex, C & E)
Sponsored Products
Short Description
Food supplement with sweetener, with magnesium and vitamins, +B-complex + vitamins C and E, orange-grapefruit flavor.
Magnesium contributes to normal functioning of the nervous system and normal muscle function.
Ingredients: acidifier: citric acid; magnesium carbonate, acidity regulator: sodium carbonates; inulin, flavoring, sweetener: cyclamate; vitamin C, coloring food; beet powder; vitamin E, anti-caking agent: calcium phosphates; niacin, coloring; carotene; sweetener: saccarin; Vitamin B1 2, pantothenic acid, Vitamin B2 , Vitamin B6 ; vitamin B1, folic acid, biotin.
Legal information: Do not exceed the recommended daily intake stated. Food supplements are not a substitute for a balanced and varied diet and a healthy lifestyle. Please keep out of reach of children. Gluten and lactose free. The desiccant silica gel in the cap is not suitable for consumption. As this product contains Magnesium, it is not suitable for children under 4 years of age. Magnesium in high doses can have a laxative effect in sensitive people.
Country of origin: Germany
Directions for use: Dissolve one effervescent tablet daily in a glass of water ( 200 ml ) and drink.
Hazard statements: Please keep out of reach of small children. Store closed, cool and dry.
Long Description
In fact, magnesium is a vital mineral on which the body depends. Because: Magnesium is involved in energy metabolism, muscle and nerve function.
Advertising claims such as: "Magnesium contributes to a normal energy metabolism", "Magnesium contributes to a normal muscle function" are very common. However, these statements are only about maintaining normal functions, not about improving performance or treating disease-related changes.
An improvement in body function is only achieved if a deficiency is present. However, a magnesium deficiency is rare in some countries. And not every calf cramp immediately indicates a magnesium deficiency. Muscle cramps can have many causes. They are often caused by overstraining or understraining the muscle (through sports, incorrect footwear, poor posture), but also by not drinking enough or disturbances in the electrolyte balance (e.g. through excessive sweating). If symptoms persist, the doctor should always be consulted first to find out the cause.
| | |
| --- | --- |
| Details: | |
| Net-Content: | 102g |
| Wikipedia: | Visit |
| Manufacturer: | ProLife |
| Origin: | |
| Barcodes: | |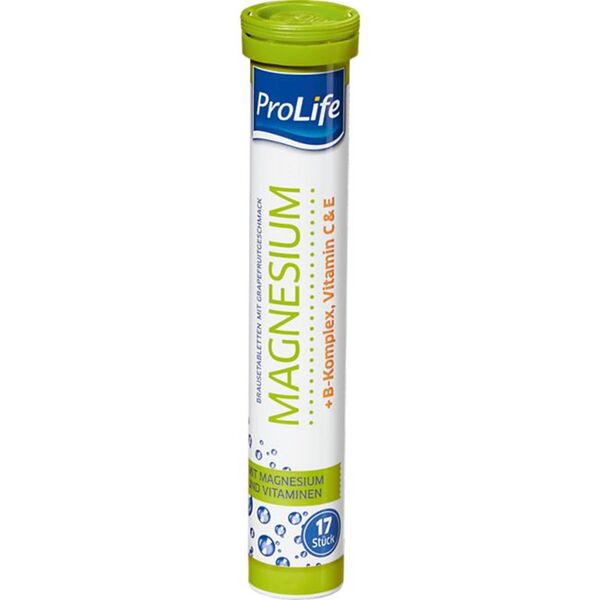 | Nutrition Facts | | | |
| --- | --- | --- | --- |
| Serving Size: | | | |
| Ammount per Serving: | | | |
| Calories: | | | kcal |
| | | Details in % | Daily Value |
| Total Fat | | % | g |
| Satured Fat | | % | g |
| Trans Fat | | % | g |
| Polyunsatured Fat | | % | g |
| Monounsatured Fat | | % | g |
| Cholesterol | | % | mg |
| Sodium | | % | mg |
| Potassium | | % | mg |
| Total Carbohydrate | | % | g |
| Dietary Fiber | | % | g |
| Sugars | | % | g |
| Other carbohydrate | | % | g |
| Protein | | % | g |