Viewed 1 times...
Italian original sausage
Sponsored Products
Short Description
Turtle Island Foods Tofurky Italian Sausage With Sun-dried Tomatoes And Basil - 4 CTOrganic Tofu (Water, Organic Soybeans,
Magnesium
Chloride, Calcium Chloride), Vital Wheat Gluten, Expeller Pressed Non-GMO Canola Oil, Water, Shoyu Soy Sauce (Water, Non-GMO Soybeans, Wheat, Salt, Culture), Organic Soy Flour, Sun Dried Tomatoes, Basil, Granulated Garlic, Sea Salt, Spices.Turtle Island Foods Tofurky Italian Sausage with Sun-Dried Tomatoes and Basil. Family Owned & Independent Since 1980. Outdoor Grill Approved. Gourmet, Meatless and Delicious! Vegan. Net wt 14 oz (397g) . Directions Keep refrigerated.Serving instructions:Stovetop: (recommended) chop sausage into 1/2 rounds or ovals. Brown in lightly oiled pan. Add your favorite marinara sauce and simmer. Serve over pasta.Microwave: place thawed sausage on microwaveable plate and cook on high for 30 seconds. Serve on bun with grilled peppers, onions and marinara sauce.Grill: lightly rub each thawed sausage with cooking oil and place on heated grill. Cook until hot, turning occasionally. Do not overcook! Serve on a bun with all the fixings.After opening, wrap tightly in plastic bag and refrigerate. Check out www.tofurky.com for great sausage recipes!. Warnings Contains: soy, wheat.
Long Description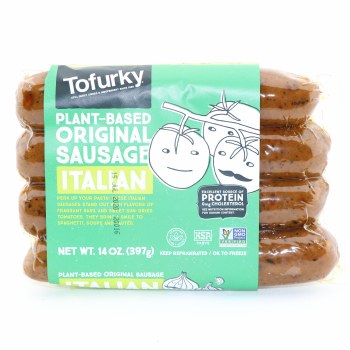 | Nutrition Facts | | | |
| --- | --- | --- | --- |
| Serving Size: | | | |
| Ammount per Serving: | | | |
| Calories: | | | kcal |
| | | Details in % | Daily Value |
| Total Fat | | % | g |
| Satured Fat | | % | g |
| Trans Fat | | % | g |
| Polyunsatured Fat | | % | g |
| Monounsatured Fat | | % | g |
| Cholesterol | | % | mg |
| Sodium | | % | mg |
| Potassium | | % | mg |
| Total Carbohydrate | | % | g |
| Dietary Fiber | | % | g |
| Sugars | | % | g |
| Other carbohydrate | | % | g |
| Protein | | % | g |