Viewed 3423 times...
HAIRtamin Advanced Formula Vitamins
Sponsored Products
Short Description
HAIRtamin is a powerful hair vitamin with advanced ingredients designed to support stronger, longer, thicker hair. The proprietary blend of vitamins, minerals, and herbs plus a potent super antioxidant complex aids in the prevention of hair loss and shedding and increases follicle strength for the strong, shiny, healthy hair you desire.
HAIRtamin vitamins contain 20 premium ingredients designed to nourish and support healthy hair and follicle strength safely and naturally. HAIRtamin contains Biotin, combined with a powerful blend of strengthening Stinging Nettle, nourishing Aloe Vera, Horsetail and Brahmi extracts and key vitamins like Niacin and Folic Acid that work to support healthy hair from the inside out.
Advanced Formula is a hair nourishing supplement made with a potent blend of vitamins, minerals and botanicals plus a powerful super-antioxidant complex that helps encourage stronger, longer, thicker-looking hair from the inside out.
Scalp Serum is a targeted, topical formula that encourages hair growth, retention & scalp health. Formulated with a patented Growth Complex clinically-proven to increase hair thickness by 121% & reduce hair fall by 58%. Scalp Serum is a Lightweight, transparent & quick-drying formula and is recommended to be used daily for best results. Use it along with our hair growth vitamins for a complete, 360 degree approach to hair wellness and scalp health.
Our HAIRtamin Advanced Grow and Restore Bundle promotes stronger, longer, & thicker hair, reduces hair shedding & thinning, and promotes a healthy scalp for optimal growth.
HAIRtamin improves follicle strength and fights the follicle aging process to reduce hair loss, as well as encouraging scalp micro-circulation to wake up dormant follicles, and increase the anagen growth phase of the hair cycle.
Long Description
Ingredients: Vitamin A (as Palmitate), Vitamin C (as Ascorbic Acid), Vitamin D (as Cholecalciferol), Thiamin (as Vitamin B1), Riboflavin (as Vitamin B2), Niacin (as Vitamin B3), Vitamin B6 (as Pyridoxine HCI), Folate (as Vitamin B9), Vitamin B12 (as Cyanoccobalamin), Biotin, Pantothenic Acid (as Vitamin B5), Zinc (as Zinc Citrate), Selenium, HAIRtamin Proprietary Blend - Aloe Vera Leaf Powder, Brahmi Extract, Rosemary Leaf Powder, Stinging Nettle Root Powder, Lutein 5%, Horsetail Herb Extract, Tumeric Root Extract (95% Curcumin), Black Pepper Seed Extract (95% Piperine).
Other ingredients: Hydroxypropyl Methyl Capsule, Magnesium Stearate and Rice Flour.
Directions: Suggested use: take one (1) capsule daily.
Vegetarian Capsule
EFFECTIVE FOR ALL HAIR TYPES: Works for women and men. Whether it's due to age, hormonal changes, diet, stress, or environmental factors, hair can become damaged and experience thinning and excess shedding. More times than not, we see the root cause of hair thinning and hair loss is a diet lacking in essential nutrients.
STRONGER, LONGER, THICKER HAIR: HAIRtamin is a powerful hair nourishing supplement with clinically studied ingredients designed to support stronger, longer, thicker hair.
EXTRA BENEFITS: Glowing Skin & Healthy Nails too, HAIRtamin has EXTRA benefits than just your hair. You'll enjoy nourished skin and stronger nails while your hair is growing faster, fuller, and healthier from the roots!
SCIENTIFICALLY FORMULATED - Our proprietary blend of vitamins, minerals and herbs plus a potent complex that synergistically promotes existing hair growth, helps reduce hair loss and shedding and increases follicle strength for the strong, shiny, healthy hair you desire.
When will I see results?
Every person's hair journey will vary, but on average, our customers have reported noticeable results after 60 days of continued use. To ensure your HAIRtamin journey is a success, remember to take your vitamins regularly, drink plenty of water, use gentle yet effective hair care products (see our BIOTIN SHAMPOO + CONDITIONER) limit the use of heat styling products and get regular trims.
Will advanced formula work on my hair type?
Advanced Formiula works on all hair types and textures.
Will I grow hair on other parts of my body?
The hair on your body does not grow in the same manner as the hair on your head. Hair follicles on the body get a molecular signal to only grow to a certain point. This differs from hair on the head, which can continuously grow. HAIRtamin only stimulates hair growth in existing follicles and not in otherwise hairless areas.
Can pregnant or nursing mothers take advanced formula?
Always consult with your doctor before starting any new dietary.
supplement-especially when you have a pre-existing health condition and/or are pregnant. While our ADVANCED FORMULA and GUMMY STARS are generally considered safe by doctors, we created HAIRtamin MOM specifically for expecting and postnatal women. It supports you, your baby, and yes-YOUR HAIR! It's still just 1 vegan capsule a day and loaded with essential nutrients you and your baby need to grow. You can find our ingredient list here.
What is the difference between advanced formula and gummy stars?
The Advanced Formula contains a powerful mix of vitamins, minerals and antioxidants that help stimulate healthy hair growth. If you prefer to take your vitamin in gummy form, our The Gummy Star vitamins are also a great choice and have the same objective, help you achieve healthy beautiful hair! While both formulas contain 5000 mcg of Biotin along with a powerful antioxidant complex, the capsules are slightly more potent containing a few more vitamins and herbs in a higher dosage.
| | |
| --- | --- |
| Details: | |
| Net-Content: | 150g |
| Wikipedia: | Visit |
| Manufacturer: | Hairtamin |
| Origin: | |
| Barcodes: | |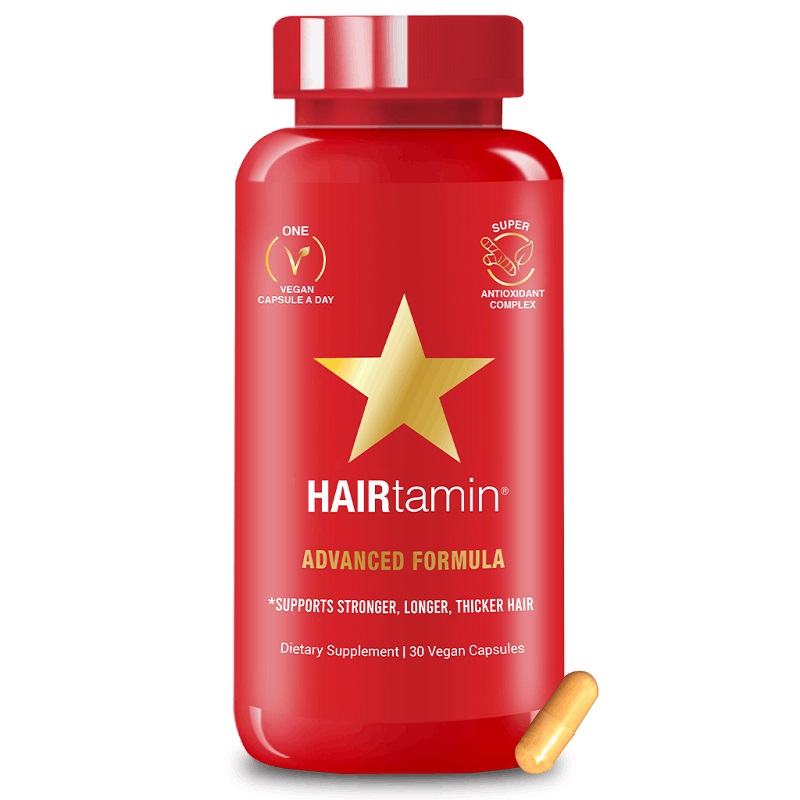 | Nutrition Facts | | | |
| --- | --- | --- | --- |
| Serving Size: | | | |
| Ammount per Serving: | | | |
| Calories: | | | kcal |
| | | Details in % | Daily Value |
| Total Fat | | % | g |
| Satured Fat | | % | g |
| Trans Fat | | % | g |
| Polyunsatured Fat | | % | g |
| Monounsatured Fat | | % | g |
| Cholesterol | | % | mg |
| Sodium | | % | mg |
| Potassium | | % | mg |
| Total Carbohydrate | | % | g |
| Dietary Fiber | | % | g |
| Sugars | | % | g |
| Other carbohydrate | | % | g |
| Protein | | % | g |