Some of us might be curious about the benefits of crisp and chewy bamboo shoots. In fact, how are these edible bamboo sprouts even beneficial to the body? Bamboo shoots come in three forms including fresh, canned and dried. The fresh ones last for up to two weeks while the canned ones have a much longer shelf life.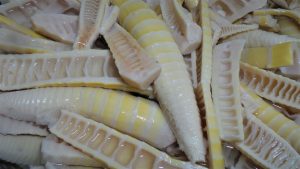 Source: Pixabay
How do they taste?
Bamboo shoots are a seasonal delicacy in Asian cuisine depending on the species. Young, cone-shaped shoots are removed from the root once it appears just above the soil. Its creamy white heart (meat) is encased in several layers of leaves. The meat is well sought after for its crunchy texture but yet mild distinctive flavour. However when boiled, it takes on an almost neutral taste making it easy to incorporate into any dish or recipe.
In Thailand, pickled bamboo shoots are served with delicious curries while in China the shoots are a prominent ingredient in noodles and soups. You may also find them being served with various fish dishes or in European countries where most of the prawn dishes have an outer crust of bamboo shoots.
What are some benefits?
Bamboo shoots contain very low proportions of calories and fats hence they can be added to the diet plan for weight loss. There also isn't much fiber although there is iron, copper and manganese to support red blood cell production. The dietary fibres that these sprouts have control blood pressure, hypertension and obesity. The anticancer properties of these shoots elevate their importance and nutritious value. They are also rich in B vitamins and other nutrients such as thiamin and riboflavin.
In comparison to other vegetables, they have a low sugar content. They are rich in vitamins and potassium, which help to lower and maintain blood pressure. Some locals also use them to clean wounds.
Selenium is another mineral which is present in high amount in these sprouts. This selenium makes bamboo shoots act as an antioxidant making body less prone to cancer.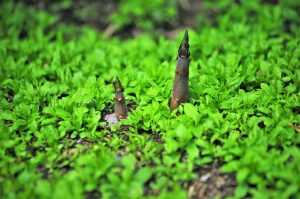 Source: Pixabay
In conclusion, the benefits of bamboo shoots we can easily say that due to huge proportions of proteins, carbohydrates, iron, manganese, copper and very low fats, these sprouts can be used as a healthy food. People are unaware of the nourishing effects of these sprouts.