Vermicelli noodles, also known as rice noodles used mainly in Asian cooking. They are fine in appearance and made from ground rice. They are usually wrapped in plastic and can be found in the Asian aisle of local grocery stores and Asian markets.
How to prepare Vermicelli Noodles?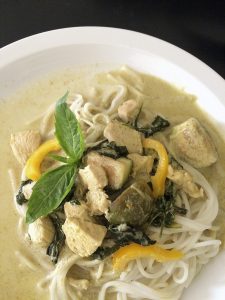 Because vermicelli noodles are so thin, in some instance they do not need to be cooked. Instead, you can just soften by placing them in a bowl and pouring hot water over them. You will then proceed to drain them when they become soft - which will take about 10 to 15 minutes. Now you can proceed to prepare them in whatever dish of your choice.
Another way to prepare the noodles is to deep fry them in hot oil. The noodles will expand and get tangled into a crisp nest when deep-fried. This is usually used as a garnish. To do this, submerge them in at least 1 ½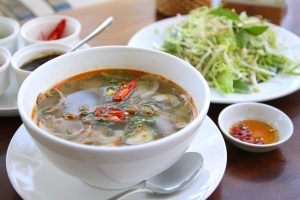 inches of hot oil skipping the softening process. Ensure that your oil is hot enough with a noodle test - drop one noodle into the oil and if it immediately puffs and turns white then the oil is ready. Fry the noodles in batches ensuring not to crowd the pan as this will drop the temperature of the oil. As the noodles puff up, remove them from the oil and drain on paper towels. You may store the cooled noodles in a airtight plastic bag for up to one week.
Though simple, vermicelli noodles are a very versatile ingredient and can be dressed up or dressed down depending on your preference. There are a number of recipes out there for vermicelli noodles but here is a quick and easy one that you can try at home.
Vermicelli Noodle Bowl Recipe
Vermicelli rice noodles 125 grams (4.5 oz)
1 Tbs
1 shallot, (roughly minced)
2 cloves of garlic (roughly minced)
A knob ginger (roughly minced)
1 Carrot
1 Cabbage (halved)
2 Tbs soy sauce
1/4 tsp red pepper flakes
Salt (a pinch)
Sugar (a pinch)
Cook the vermicelli noodles according to the package directions. You can also soak them in warm water for 2 – 3 minutes, then proceed drain and rinse them under cold water. Set aside.
Shred half of the cabbage and slice the carrot into thin strips using a sharp knife or mandoline.
Place a wok or large pan over high heat. Add the oil, shallot , garlic and ginger and gently fry for 10 – 20 seconds. Stir in the carrot and cabbage and stir cook until soft. Add the rice noodles, soy sauce, red pepper flakes, salt, sugar and shallots. Quickly stir fry for a couple of minutes until all the ingredients are warmed through.