Digitization is also making itself felt in logistics, storage and transportation, bringing with it entirely new opportunities, for example in the area of process automation or robotics. But where there are opportunities, there are always risks.
Transportation
Source:
This section covers the following topics:
Fleet Management
Automation
Traceability (blockchain, digital twin)
Optimization of material flows
Service orientation
---
Storage - Bearing monitoring
Networked storage monitors check temperature, air with alarm in case of deviation to ensure high quality and grade. Maintaining optimal storage conditions for fruits and vegetables protects plants from moisture loss, decay and aging. Oxygen, carbon dioxide (CO2), and nitrogen concentrations, as well as humidity and temperature, are controlled under controlled atmospheres. Potatoes and other types of vegetable storage are usually controlled for at least temperature and humidity.
Food quality has several dimensions such as: Packaging, labeling and material composition. In addition, there are nutritional and chemical ingredients, undesirable residues or microbiological contamination. By means of food sensor technology, the conditions can be analyzed. Further influence has subjective attitudes and unconscious actions of consumers, which affect the totality of food quality and determine purchasing behavior.
Monitor respiration rate in fruit and vegetable storage facilities
Image: Leibniz Institute ATB
A sensor system developed at the Leibniz Institute of Agricultural Engineering and Bioeconomics measures the oxygen consumption and carbon dioxide production of fresh produce. The recording of the respiration rate in real time is an important tool for controlling the storage atmosphere as well as for optimizing packaging systems for fruits and vegetables.
There are various stationary and mobile devices that measure temperature, humidity and CO2 in the warehouse. The values are displayed on the terminal or can be called up on mobile devices.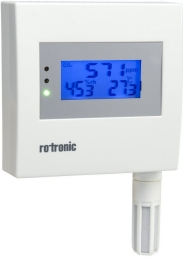 Ripening process: soluble solids by refractometer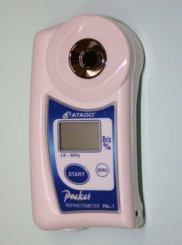 During the development of the flesh, many species store nutrients in the form of starch, which are converted into sugar during the ripening process. The progression of the ripening process leads to an increase in sugar content. A refractometer is an objective method for determining the total soluble solids (TSS) or sugar content in a fruit. The method is particularly suitable for ripe and juicy fruits that have significant sugar content, as the determination of TSS is based on the ability of the sugar dissolved in the juice to refract light.
Fruit firmness by means of penetrometer
The firmness of a fruit is closely related to the degree of development and ripeness and can be influenced by the variety as well as the growing region and growing conditions. The penetrometer is used by growers, packers and retailers to help determine the degree of ripeness of a fruit and to help determine palatability for the consumer and shelf life for their own records. Determination of flesh firmness by penetrometer is based on measuring the pressure required to push a certain size plunger into the flesh to a certain depth.
Tank level sensors
Source: distrelec.ch
A tank level sensor for liquids consists of a stainless steel tube with magnetic field-dependent sensors. A float (permanent magnet) switches the corresponding sensor analogously to the current fill level and thus indicates the current tank/barrel content and transmits this data to a display and app.