Soil cultivation is a challenge that all farmers face in agicrulture. The following shows variants of how data from sensors on agricultural machinery are used to determine soil conditions for tillage. No arable soil is homogeneous. In addition, there are often localized compactions in the soil. In order to counteract these conditions, sensors are used to be able to carry out more precise soil cultivation.
Ground scanning
Contactless scanning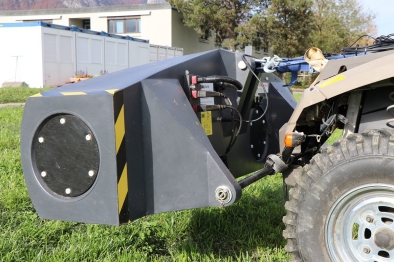 Soil cultivation - Source: sg.ch
According to the manufacturer Geoprospectors, maps with the soil parameters compaction, soil type and water saturation are derived from the collected measurement data. The farmer is now free to link this information with other data in his farm management system and calculate application maps from it. By means of a soil scanner that determines the conductivity of the soil and sends this in the form of a signal to a tillage implement prepared for this purpose, the depth of tillage is adjusted.
Ground scanning via ground contact

Geomatrix Earth Science Ltd EM38MK2 / Electromagnetic Geophysical Land Products - Source: geomatrix.co.uk
The EM 38 from the Canadian manufacturer Geonics measures soil conductivity according to the principle of electromagnetic induction. For this purpose, two coils are moved across the field on a sled. The sled is pulled over the field by a quad or all-terrain vehicle at a speed of 20 to 25 km/h. The coils are then moved over the field. The distance between the measurement tracks is about 18 m. Every second, the transmitter coil sends electromagnetic waves into the soil during the journey, which induce currents of varying strength depending on soil type, water content and compaction, among other things.
Sowing and planting
Essentially, two procedures are known for practical use:
Laser technology

In this Rexroth solution, the tractor is equipped with the Land Leveling System, the leveling blade and a laser transmitter/receiver combination. In this way, the existing linkage components on the tractor are used. The control panel for precise control of the linkage also handles all land leveling functions. The signal from the laser receiver is read into the system via CAN and the software automatically sets the blade to the required level. The existing linkage of the tractor regulates the oil flow to the hydraulic cylinder of the leveling blade.
RTK signal control

RTK Signal Control for soil cultivation - Source: fieldbee.com
The height regulation is carried out via the reception of satellite data and the RTK correction service. In addition to the transmission of the satellite's position data, height information is also included and thus work can be carried out with centimeter accuracy. Thus, slopes can be created for drainage as well as soil can be straightened. With the software for planning and a computer, the sliding plate can then be controlled fully automatically.