Child labor perpetuates the cycle of poverty for affected children, their families and communities. Globally, agriculture is the sector that accounts for the highest rate of child labor - approximately 59%. More than 98 million children, aged 5 to 14, work in agricultural production, helping to provide some of the food and beverages we consume, and the fibers and raw materials we use to make other products. This figure includes child labor in the fishing and forestry sectors. Nearly 70 percent of child laborers are unpaid family workers according to the International Labor Organization (ILO). Agriculture is one of the three most dangerous sectors in terms of work-related fatalities, non-fatal accidents and occupational diseases. Nearly 59% (or 70 million) of all children in hazardous work between the ages of 5 and 17 are in agriculture.
It's not all child labor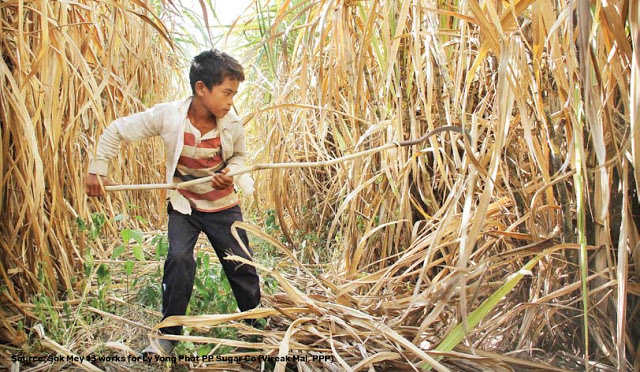 An example of what child labor looks like - Source: globalmarch.org
But according to the UN Food and Agriculture Organization (FAO) it is worth noting that not all work done by children is considered child labor. Some activities can help children acquire important livelihood skills and contribute to their survival and food security. However, much of the work that children do in agriculture is inappropriate for their age, is likely to be hazardous, or interferes with their education. For example, a child under the minimum age for employment who works herding livestock, a child applying pesticides, or a child who works all night on a fishing boat and is too tired to go to school the next day would be performing child labor.
Cycle of poverty and how it impacts child labor
Child labor perpetuates the cycle of poverty for the affected children, their families and communities. Without education, these children are likely to remain poor. The prevalence of child labor in agriculture violates the principles of decent work. By perpetuating poverty, it undermines efforts to achieve sustainable food security and end hunger. FAO works with the ILO through the International Partnership for Cooperation on Child Labor in Agriculture, formed in 2007, sponsoring actions that contribute to the prevention of child labor in agriculture.
Capacity building
These include knowledge sharing and capacity building: Children's work in agriculture is often invisible, because available data on the activities in which they are involved, as well as the associated risks, are limited. In response, FAO works to promote a greater knowledge base on child labor in countries and in different agricultural sub-sectors. It enables the exchange of good practices and the development of tools to support national capacity building and institutional development. Because child labor in agriculture is difficult to address because the sector is often under-regulated in many countries, FAO helps governments ensure that child labor issues are better integrated into national agricultural development policies and strategies. It is worth recalling that in 2013, the 38th FAO Conference adopted a revised International Code of Conduct on Pesticide Management to encourage governments and the pesticide industry to take measures to reduce the vulnerability of children to exposure.
References