Nutmeg is a spice that originates from the seed of the evergreen nutmeg tree (Myristica fragrans). The nutmeg tree, surprisingly, is a host to one more incredibly potent and unique spice, mace, which is the dried reddish seed covering. This tree is native to the Maluku or Spice Islands of Indonesia. It is the only tree which is the origin of two distinct spices in the entire world. It is mainly grown in the Caribbean, other tropical areas of the world, and also in Southern India often in the state of Kerala. Seeds are dried eventually in the sun over a period of six to eight weeks. During this time it shrinks away from its hard seed coat until the kernels rattle in their shells when shaken.
Uses of Nutmeg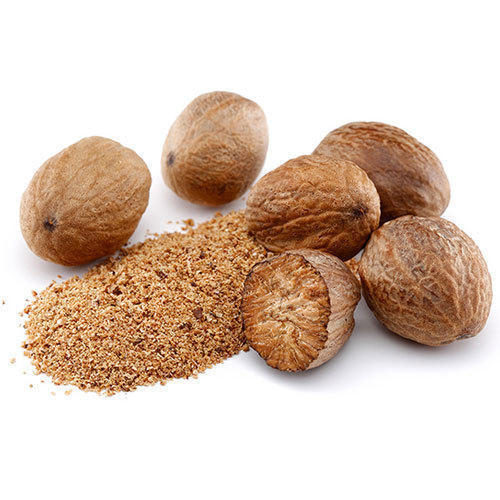 Nutmeg spice has a penetrating fragrance and a slightly sweet taste which is why it is mostly used in cuisines around the world. It is used and found in many forms like essential oils, powder, and extracts. The ground nutmeg aids in many preparations like a confection, puddings, baking, beverages like eggnog, pumpkin pie and apple pie. It is mostly used in making nutmeg butter. The spice is also a vital component in creamy and cheesy dishes like alfredo.
It is specifically well suited for creamy or cheesy dishes and is easily added to alfredo or bechamel sauce to create depth. The spicy flavor of nutmeg provides a nice contrast to the creaminess of the cheese. It can also aid to flavor meats and is mainly an ingredient in spice blends such as garam masala or curry.
Nutmeg Cautions
In high doses, it has hallucinogenic properties and can be very toxic. Although rare, a few deaths have been caused by its toxicity, usually in the case of accidental ingestion. The dose needed to achieve these effects or potential danger far exceeds any culinary use and caution does not need to be taken when flavoring foods. It may end in poisoning because of the intentional use of it for its psychoactive effects or accidental ingestion of a large amount by a child. It is not regarded as a nut tree. If it is ingested to people who are allergic to peanuts or tree nuts, then it can be very dangerous. Otherwise, it is referred to as harmless.
Health Benefits of Nutmeg
The health benefits of nutmeg are listed below:
Relieves pain
Relieves insomnia
Promotes digestion
Improves brain health
Oral health
Liver protection
regulates blood pressure
anticancer potential
skin care
lowers cholesterol level