Thai Tom Yum Soup is one of the simplest and easiest soups to make. The full-flavored broth is filled with lemongrass, ginger and Thai chilies. Plump Shrimp, straw mushrooms and fresh cilantro complete this tasty and warming Tom Yum Soup recipe. Instead of visiting a restaurant, you can make the most valued Thai soup at home in no time. This Thai Soup will knock-your-socks-off! It's light, easy, healthy and gluten free. It's flavorful and if you wish, you can make it spicy enough to clear out your sinuses (guaranteed!).
What Makes Tom Yum so Nutritious and Delicious?
Lemongrass consist of higher anticancer components which enable them to avert cancer cell growth. It has also been used for flu, colds, fevers, headaches, abdominal pain and other stomach conditions, Arthritis and fungal conditions
Chili can be a source of different potential health benefits such as pain reliever, anti-diabetes, and anti-cancer.
Galangal is known for its anti-inflammatory and antioxidant properties. It is a very famous spice. Galangal is now grown in Southeast-Asian countries but was initially harvested for use in cooking and medicine in China and Java. It reduces abdominal pain, assist in digestion, remedy vomiting, seasickness and motion sickness. It also improves blood circulation in hands and feet, treat diarrhea, fight inflammation. It cures the hiccups.
Tomatoes are naturally rich in vitamins A, C, and E, which fight off radicals that cause cancer.
How to make Tom Yum Soup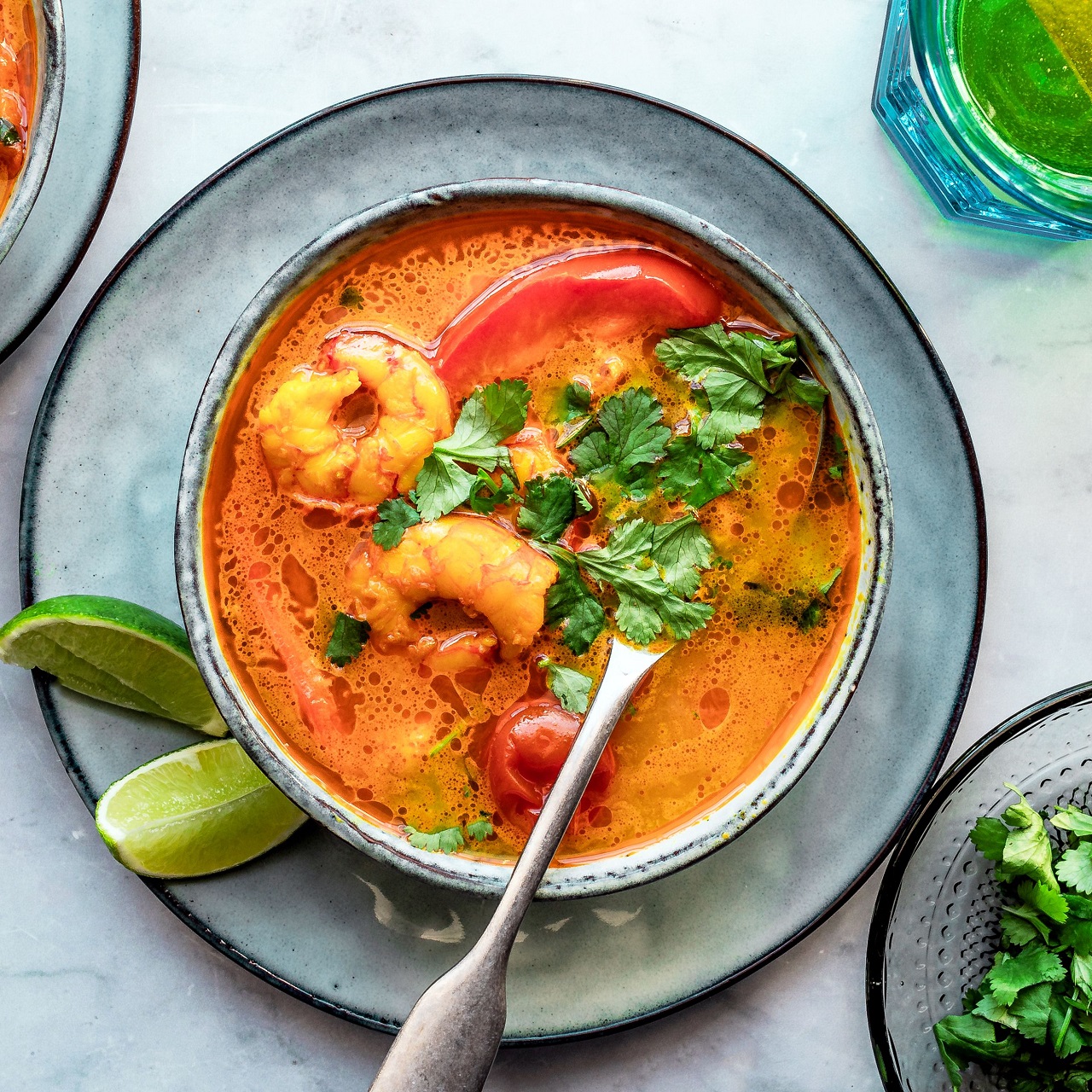 Source: thespruceeats.com
It all starts with the broth! A good chicken broth like a basic chicken stock or shrimp broth is always a delight. However, feel free to use seafood broth in the diet. We are going to fill the broth with lemongrass, ginger, lime leaves , and Thai chili peppers. Converting a basic broth into a flavor packed Thai broth! The original Thai soup uses galangal – a root like ginger. However, galangal is very difficult to find in our neck of the woods so we always use ginger instead. After a swift simmer, the rest of the components are added. It takes a few extra minutes and the Tom Yum is done! Garnish it with fresh cilantro and serve. Adding the following components makes the soup more delicious
Add buckwheat noodles for a heartier soup. Cook the noodles as prescribed in the package instructions (it usually takes few minutes), drain, rinse and set in a soup bowl. Pour the soup with the buckwheat noodles and enjoy!
Sliced onions. Add few at the same time you add the mushrooms.
Instead of straw mushrooms, we wish to add sliced Shiitake or white button mushrooms.
Add sliced scallions with the cilantro.