You would like to know what the Health benefits of eating sugar snap peas are? Don't worry, we'll get to that in a minute. But first, let's tell you a bit about it. Snow peas are more commonly called sugar snap peas and are a nutrient-rich food that is versatile in the way it can be enjoyed both raw and cooked. These peas are able to be grown openly in winter, hence their name, making them a food that is readily available all year round. These little beans are packed full of healthy nutrients, including dietary fibers, that may help maintain healthy levels of blood sugar and body weight. They are also full of vitamin C, vitamin A, potassium, magnesium, folic acid, healthy fats and more.
What are sugar snap peas?
Before we get to the Health benefits of eating sugar snap peas, let's tell you more about what they exactly are. Snow peas, more commonly known as sugar snap peas and Chinese peas, are a type of green vegetable that is unique in the way that it is flat with tiny peas found inside of them. The entire pod is totally edible instead of just the peas inside, making them stand out from other similar beans. These types of peas are also able to be served raw or cooked and have a mild, earthy flavor that won't overpower other ingredients in any given dish. The snow pea has been thought to have been cultivated since the 19th century, mostly in Europe. It is able to be grown easily in the winter, which is how it gets its name snow pea to start with.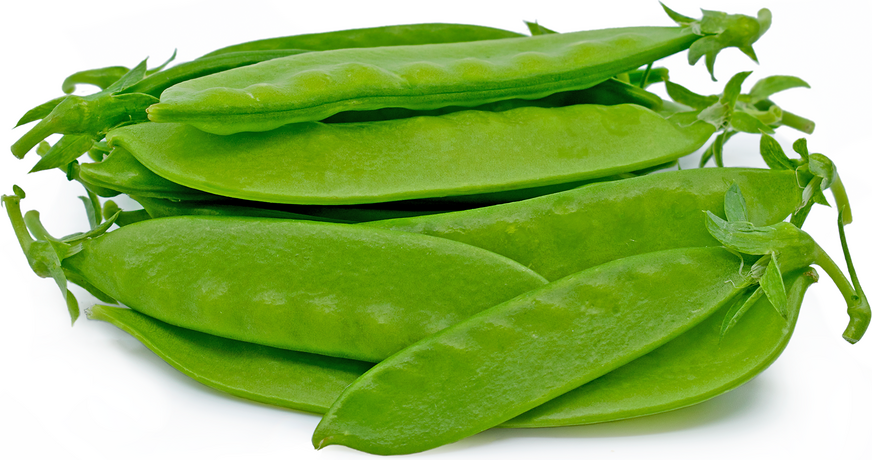 Source: https://specialtyproduce.com/ - Snow Peas
What are the Health benefits of eating sugar snap peas?
When it comes to the Health benefits of eating sugar snap peas, there's a lot to well. There are many different healthy compounds inside of sugar snap peas that make them a good addition to any diet. They are rich sources of vitamin C, vitamin A, potassium, iron, dietary fiber, folic acid, magnesium and even some healthy fats that are hard to get elsewhere. Because of their inclusion of fiber, they are known to be quite filling and may assist in helping you maintain a healthy weight. With all of this fiber, your blood sugar levels may also be more easily balanced. The vitamin C serves as a heart-healthy source of antioxidants as well.
How do you cook with sugar snap peas?
Cooking with sugar snap peas offers you a rather endless way to enjoy them. First, because they can be eaten whole and raw, they are easy to just toss onto salads or into noodle dishes to give them a more interesting texture. Snow peas can also be cooked and added to soups and stews, and they are commonly enjoyed in stir fries.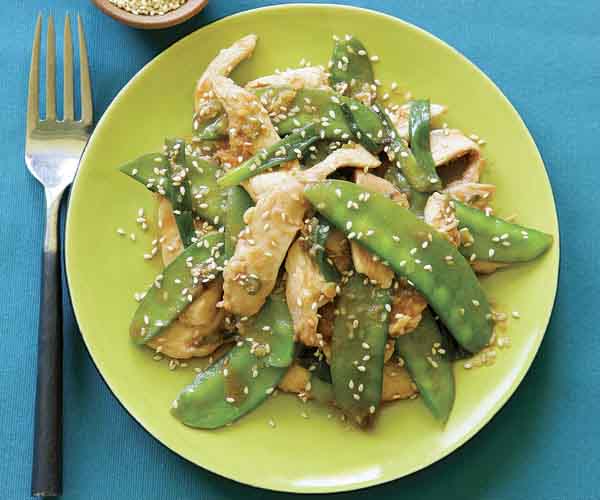 Source: https://s3.amazonaws.com/ - Sesame Chicken with Ginger & Snow Peas
The pea comes from the Near East and probably migrated to Europe via the Middle East. Its original form has been known since ancient times. At that time the pea was eaten in dried form. It is not known exactly, but scientists suspect that sugar snap peas were not cultivated in Central Europe until the 16th century. Varieties were bred that could be eaten with the pod. This is how the snow pea was created.
Ingredients
Snow peas contain a particularly high amount of protein and are therefore a valuable source of protein. In addition, sugar snap peas, as they are also called, are rich in carbohydrates, fibre and minerals. Above all they are an important source of vitamin C and B vitamins. And, as the name suggests: the sugar content of the sugar snap peas is quite high, so they have a sweet and fresh taste. The variety of Snow peas is eaten with the husk, in which the undeveloped grain is found.
Botany of the sugar pea: Without parchment
The Snowpea (botanically: Pisum sativum var. saccharatum) belongs to the legume family (legumes). The annual herbaceous plant climbs up to 80 centimetres in height on supports. The stems are bluish-green and have leaves arranged in pinnate pairs. The legumes are between three and twelve centimetres long and are picked when the first grains are felt. The flowers of the pea - white or purple depending on the subspecies - smell of honey and are self-pollinating. The sugar pea blooms in May and June. It has very deep roots: the sugar pea burrows into the earth up to one metre. Just like green beans, the sugar pea can extract nitrogen from the air thanks to root bacteria.
Sugar peas can be recognized by the fact that there is no inedible layer of parchment inside the pods. In a broader sense, sugar snap peas are also sugar peas. Malleolan peas are the result of a cross between sugar peas and marker peas. While sugar snap peas have flat and thin pods, cracker peas have thicker and more fleshy pods.