The health benefits of eating black glutinous rice are incredible, but we'll get to that later. First, let's tell you a bit about black glutinous rice, also known as black sticky rice. Black sticky rice, also called glutinous rice or "black pearl rice," is a variety of rice known for its sweet flavor, chewy texture and inclusion of nutrients that other rices varieties typically don't possess. In this case, that means plentiful antioxidants that may help support the immune system and fight back against cellular aging. It is also full of puerperium, which is a nutrient that may help nursing mothers produce more milk. The compound has also been cited in Chinese medicine as an energy booster to help those who suffer from low energy levels and physical weakness.
Origin and Attributes
We'll get to the health benefits of eating black glutinous rice in a minute, but let's talk about its origin first. As the name sticky rice suggests, this is a type of rice that is particularly sticky. The property of sticking to each other after cooking is even higher than with rice pudding. The starch of glutinous rice has a particularly high proportion of amylopectin, which migrates to the outside when steaming, which explains its good adhesive properties. The rice is known under various names, such as sticky rice, sweet rice and glutinous rice. Although this rice is of very high quality, it is still known in Asia as a dish for the poor. This is because this rice is very cheap. Many people simply eat it by hand, which adds to this image. The rice is mainly cultivated in Thailand, but also occurs in China, Japan and Korea. Sticky rice is a long grain rice, its grain can be up to 6 mm long. When uncooked, the rice is milky white. The taste is slightly sweet, which explains the name sweet rice.
What is Black sticky rice?
In order to understand what the health benefits of eating black glutinous rice mean, we have to know what glutinous rice is. Black sticky rice, also sometimes called "black pearl rice," is a rice that occurs in a naturally sweeter, chewier form than standard types of white rice. In Chinese medicine, thee rice is used for a variety of different purposes, one of the main ones being its heavy concentration of antioxidants and other nutrients, making it a health conscious-choice over white rice.
What does Black sticky rice taste like?
Black sticky rice has a slightly sweeter taste to it that is rounded out by a slight earthy taste. It is also a bit more chewy than other standard rice varieties.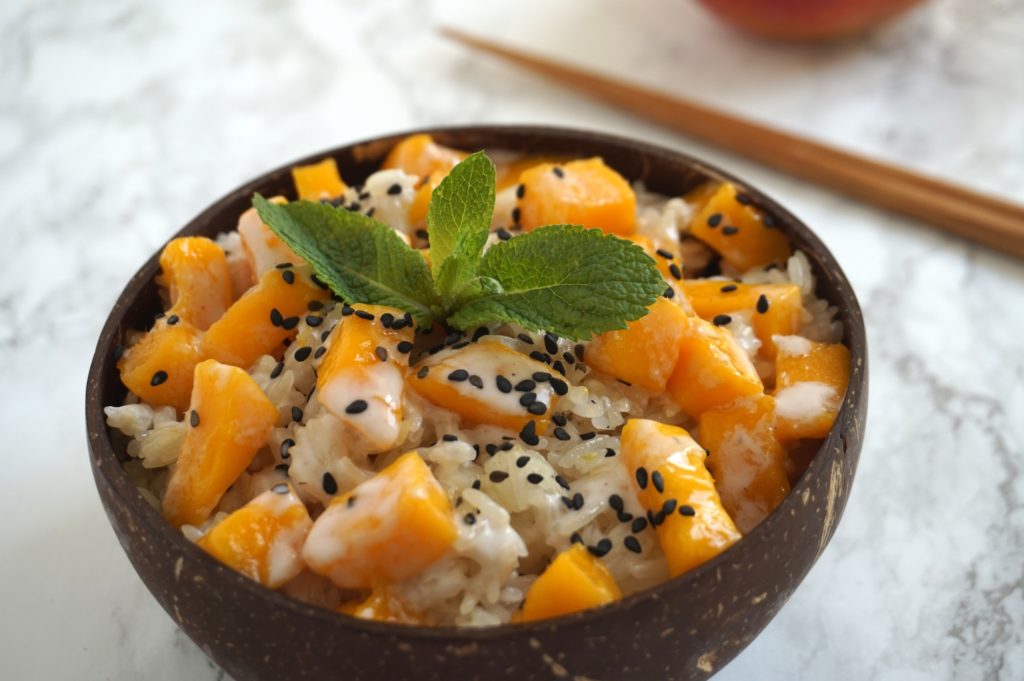 Source: https://www.minamade.com/- Thai Mango Sticky Rice Recipe
What are the health benefits of eating black glutinous rice?
The health benefits of eating black glutinous rice are incredible. One of the main benefits of eating Black sticky rice is its high concentration of naturally occurring antioxidants. By ingesting these antioxidants, you may give your immune system the boost it needs to help fight off infection and other illnesses. They also help to naturally detox the body, which may help slow premature aging of the cells. This may also help to reduce signs of aging of the skin such as wrinkles and fine lines.
Not only this, but Black sticky rice is a rare source of puerperium, a compound that is known to help increase the production of breast milk in nursing mothers. The compound is also known to provide greater levels of energy for those who suffer from physical weakness.
Uses of sticky rice
You can use Black sticky rice for just about any dish that you might otherwise use white rice for. Not only can it be cooked with other ingredients or eaten on its own for lunch or dinner, but also is the perfect choice for making rice puddings. The sticky rice is mainly found in the Thai kitchen. There it is used, among other things, for desserts. This rice is especially suitable for Thai cuisine.
Health aspects of sticky rice
As with all rice, the largest components in terms of quantity are the complex carbohydrates. These ensure that the rice is digested for a long time and the feeling of fullness does not disappear so quickly. The protein contains important essential amino acids. Sticky rice also has a particularly high content of selenium. This mineral regulates the thyroid hormones. The manganese content is also important. This mineral is especially important for the metabolism.
Source: https://iamafoodblog.com/ - Sticky Rice in a Steamer
Table of nutritional values for 100 grams of uncooked rice:
Energy: 354 kcal or 1506 kJ

fat content: 0,6, no saturated fatty acids

Carbohydrates: 81 g, no sugar

Protein: 6,3 g

dietary fibre: 1 g
Prepare your own sticky rice
The classic preparation of sticky rice is steaming. This way the rice sticks together after preparation without being muddy. Of course, this rice can also be prepared in a saucepan like the other varieties, but usually the result is not very good. Either the rice is still too grainy. If the rice then boils too long, it is mushy.
Again, the result is not optimal.
First the rice must be washed twice. Afterwards it should be soaked between 2 and 12 hours. Longer soaking ensures that the rice does not need to be steamed too long later. If you take 4 hours for the soaking, you will need about 30 minutes later in the steamer.
Now the basket of the steamer has to be covered with a cloth or with several salad leaves. Now pour off the soaking water and pour in the rice. Now pour enough water into the cooking pot. Adjust the steamer base and switch it on. During the steaming process check the water in the pot again and again and refill if necessary. If it should run out, the cooking pot may burn. In order to get the most out of the health benefits of eating black glutinous rice, make sure you mix this rice with other healthy dishes.