How does one cook glutanious rice?
This rice variety is used as the staple food in Laos and northeastern Thailand (khao niao). In Vietnam (gao nep) it is mainly used for desserts, dessert soups and rice cakes. Sticky rice is opaque white and has a thick, bulbous grain. For desserts, there is also a dark red or black sticky rice (thai: khao niew dam). It is quite easy to distinguish between jasmine rice and glutinous rice: while uncooked, jasmine rice is a bit translucent, glutinous rice is a bright white color. When boiled it is the other way around, now the sticky rice is somewhat translucent, while the jasmine rice is white. It is often said that glutinous rice is only to be eaten in small quantities, otherwise it would cause digestive problems. That's not true, on the contrary sticky rice is very healthy and promotes digestion. Incidentally, it contains no gluten despite the English name "Glutinous Rice" just like all other rice varieties. Sticky rice can not be replaced by the risotto or rice pudding we use. Thai glutinous rice in very good quality is obtained in Asian markets (recommendation below).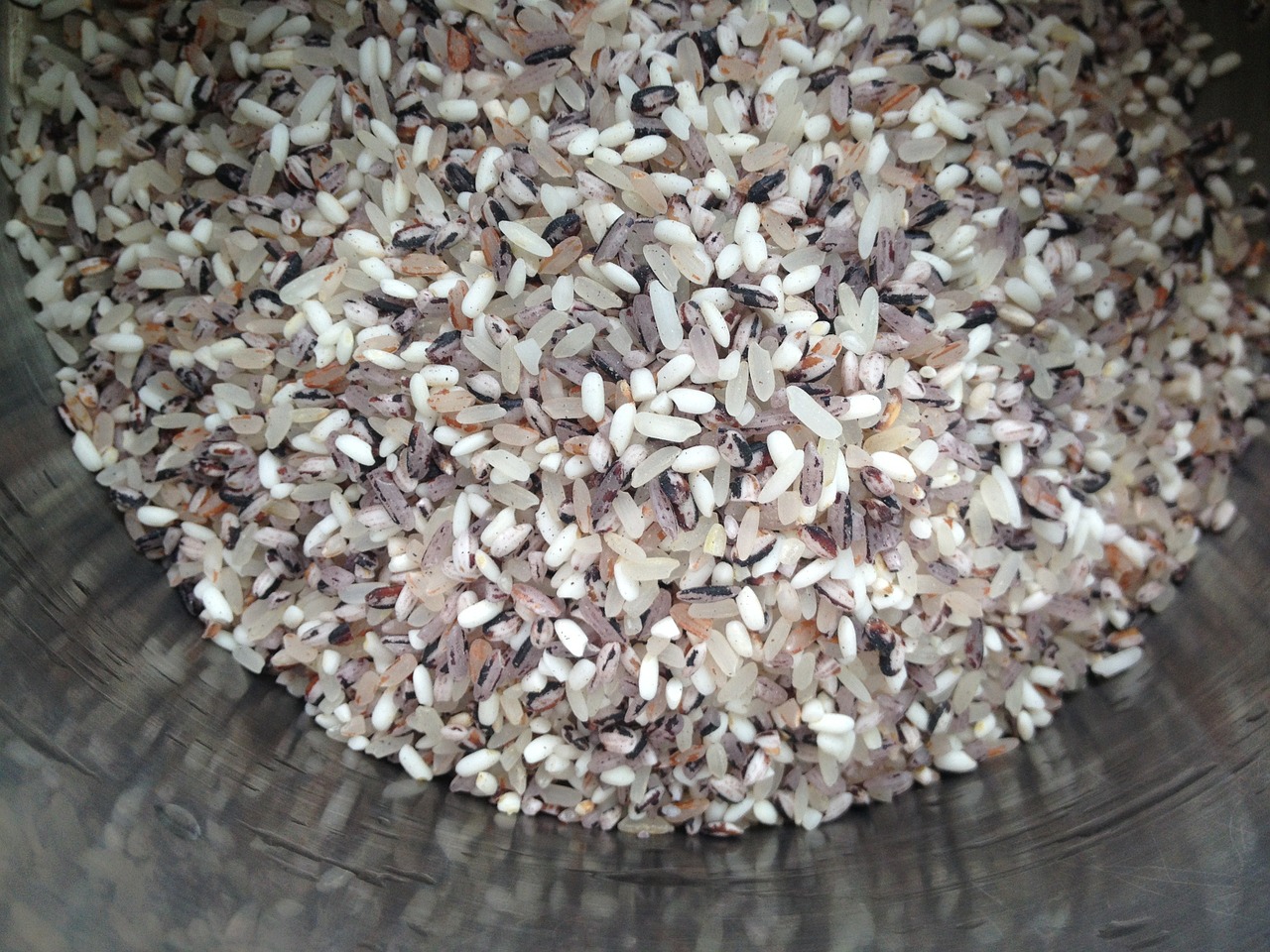 Source: Pixabay - glutanious rice
---
To prepare glutinous rice for Laotian dishes you need a bamboo rice steamer. It consists of a conical shaped bamboo basket and an aluminum pot with a specially curved opening. You need at least 400g of glutinous rice to get the right consistency when steaming later. Wash the sticky rice thoroughly in lukewarm water several times, rubbing the rice grains between your hands. Then soak the sticky rice in lukewarm water for at least 3 hours, better overnight. Now thoroughly rinse the bamboo basket inside with lukewarm water. This prevents the sticky rice from sticking to the basket later. Fill the soaked glutinous rice together with the soaking water into the bamboo basket over the sink. The soaking water runs naturally through. Arrange the sticky rice in the middle of the bamboo basket, but do not press it up against the wall.
Fill the aluminum pot with 1-1.5 liters of water and place on the stove, preferably gas stove. Bring to a boil. Once the water boils, put the bamboo basket on top and cover the sticky rice with a damp kitchen towel. Steam for 20 minutes, then remove the kitchen towel, take the basket with both hands and shake until the rice curd has rotated 180 degrees. Replace the kitchen towel and steam for another 10 minutes. Now tilt the sticky rice onto a clean and smooth work surface and spread with a plastic spoon or wooden spatula and let cool slightly. Then either completely authentic in small bamboo baskets or fill in a bowl and serve. At the table, pick up a small amount with the fingers of your right hand, shape it into a ball, press a small hole into it with your thumb and use the rice ball as a spoon to pick up, for example, a laotian larb.