What is seaweed?
Seaweed, also called Nori, plays a big role in Japan. The sea vegetable is used as a miso soup, topping, salad or sushi. The benefits of seaweed are its high levels of minerals that make our bodies healthy. Tao Kae Noi is a Thai product, which has a rising popularity. The manufacturers specialize in the production of seaweed snacks.
What is special about Tao Kae Noi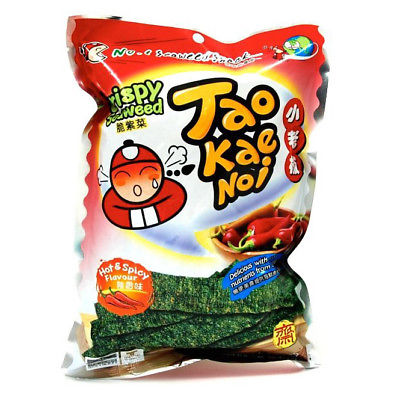 Tao kae noi products, which are available in our shop[/caption] They are made from the highest quality algae to preserve their healthy high quality. The bagged seaweed from Tao Kae Noi is cut into small pieces. It has the ideal size to enjoy while watching a thrilling movie. What makes it very special is that the kelp is as crispy as ordinary potato chips. The seaweed's taste even resembles regular potato chips. Therefore, this snack is a good alternative.
Nutrition
The algaes contain 673 kcal / 100g, which isn't very little. However, a pack has only 32g, which means; You would have to eat 3 bags to get to the value. Since the taste is very intense and the chips are very light, you don't have to worry. One doesn't usually eat the whole bag. You will be already "full" before. Therefore, for those who do not want to miss a great snack, these chips are suitable for for low carb diet!
This might interest you