Have you ever heard of Tao Kae Noi Seaweed Chips? We will tell you more about them, but first, let's start with seaweed. The seaweed, also known as Nori, which plays an important role in Japan, is actually known to many. Whether in miso soup, as a topping, salad, or the most famous kind, in sushi.
The advantage of seaweed is that it contains many minerals that are very important for our body. These can quickly fall by the wayside during a day or weekend with little time and lots of fast food. That's why a portion of seaweed in your food is always great if you cook Japanese.
Make it easier than ever before to eat healthier snacks when you try the Tao Kae Noi Seaweed Chips Hot and Spicy. These seaweed chips bring you an explosion of spicy Thai flavor that will satisfy your cravings for something hot while also letting you enjoy the one-of-a-kind taste of seaweed. Using a combination of umami, salty flavors, and powerful spices, you are sure to find that the Tao Kae Noi Seaweed Chips Hot and Spicy are an enticing, nutrient-dense alternative to the less healthy snack foods in your pantry.
There's always this situation where you sit in front of the TV on a Friday evening, watching something great and somehow get the feeling that something crispy is needed.
Then you quickly reach for a bag of chips and suddenly you have one or other kcal on the weekend again.
summer is approaching so I try to pay more attention to what I eat to get back into my usual shape.
But when I'm not at the fairs and sit at home and enjoy an evening, then it's really hard not to try the traditional snacks. So here's a little tip from me for a great alternative.
So how do the Tao Kae Noi Seaweed Chips get to the TV night?
There is a brand called Tao Kae Noi. This is a Thai brand that makes snacks seaweed. The brand is also used in Germany
more successful and therefore there are more and more varieties in this country. What I personally find mega good.
The Snacktang (as I now call it) is packed in a bag and cut into small pieces. That means it has an ideal size to snack it during an exciting movie. And now comes the best. Because of the special processing, the seaweed is mega crispy. When you bite it and in your mouth, you actually hear the same noises as with real chips. And that is the secret. Because when we eat chips, our brain registrants this mainly through the characteristic sound when chewing and less through the taste. So if we listen to ourselves eating chips, we are confirmed and happy, because the brain combines eating chips with happiness hormones from the reward system. That's why the companies also attach great importance to the products crunching properly. (In my studies I once had the luck to attend a course of a well-known company in the snack area.
So if our seaweed crunches properly, the brain connects it as a good alternative. And now comes the second point. Also, the taste is totally similar. Of course, I can't say that of all varieties, because I haven't gone through them all yet. But I love for example chips with BBQ taste. For example these kettle chips, yummy, yummy. Tao Kae Noi now offers a variety with Peking duck and I have to say that the taste is very similar to the BBQ chips.
I also like the very neutral seaweed of the brand, which is only spiced with salt and pepper.
Of course, you have to admit that the algae with 673 Kcal per 100 g are not exactly low in kcal, even more than many chips, BUT:
Unlike the chip bags, one bag of seaweed contains only 32 grams. That means you would have to eat 3 bags to reach this value.
Furthermore, the algae are lighter than chips, so you can eat many more pieces. And since the taste is quite intense you don't need the
eat the whole bag. In addition, with 20 g of carbohydrates per 100 g and 3 g of carbohydrates per serving (16g = half a bag), they are also super suitable for a low carb diet. So just if you want to take care of it for the summer, you are really well-advised with these algae.
What are Tao Kae Noi Seaweed Chips Hot and Spicy?
Tao Kae Noi is a Thai brand of snacks that are famous for their huge variety of flavored seaweed snacks. The company specializes in creating delicious chip alternatives to unhealthier potato chips and similar styles of snacks. These seaweed snacks are so well-loved that they quickly gained traction in other parts of the world after their introduction in Thailand in 2004, and now, there are snacks to suit everyone's taste. For those who love spicy snacks and want a healthier way to enjoy them, try the Tao Kae Noi Seaweed Chips Hot and Spicy.
What Tao kae noi seaweed chips Hot and Spicy taste like?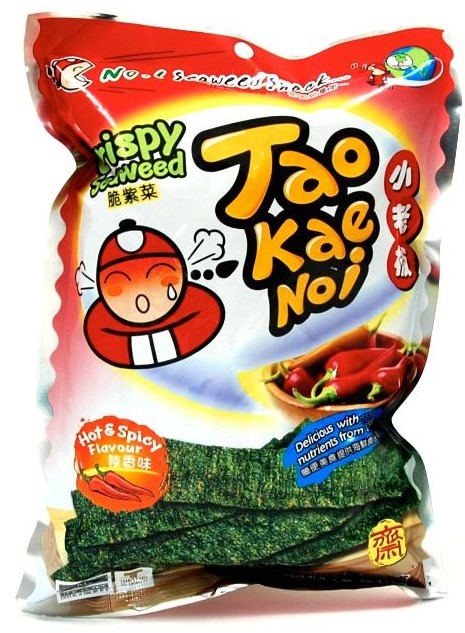 These seaweed chips are made with delicious Thai spices that will wake up your taste buds from the very first bite. Full of as much fire as flavor, these chips make a great snack to eat by the handful to hold you over in between meals. These spices sit atop the seaweed base, which has a salty and savory flavor that even hits on the umami taste receptors of the tongue, making it a snack even for the most sophisticated of palates.
Are there any real health benefits to eating Tao Kae Noi seaweed chips?
Not only the Tao Kae Noi Seaweed Chips Hot and Spicy come with benefits, but many other seaweed chips as well. Seaweed is full of nutrients that can sometimes be difficult to get from other sources in the diet, including iodine and tyrosine. Both of these compounds are necessary nutrients for supporting the health of the thyroid. Outside of these two compounds, there are also other minerals that are plentiful in seaweed, including protein, fiber, riboflavin, copper, manganese, iron, and thiamin. Dried seaweed is also remarkably low in calories, making it a healthy snack for those who are on a diet.