Change your boring side dishes for your savory meals by switching them out for Mochi with Red Beans. These mochis offer a slightly savory, earthy flavor that blends both white rice and beans together for a classic flavor combination appropriate for most meals. The mochis are sticky and chewy, offering a one-of-a-kind texture that no other food can quite provide. These mochis are incredibly filling and can be snacked on throughout the day to keep you feeling fuller and satiated for longer periods of time.
What is mochi?
Mochi is one of the more popular Japanese foods that many people in the Western world even know about. Traditionally, they are enjoyed at the turn of the new year as they are seen as a sign of good fortune and prosperity in different parts of life. Mochis are made using sticky mochi rice that is soaked in water until it becomes a paste that is easy to beat and turn into a dough-like substance. Once it is in this state, the mochis are then rolled into balls and can be filled with any number of ingredients, from sweet to savory and beyond.
What is unique about mochi with red beans?
Mochi with red beans gives you a savory flavor of mochi that is best paired with other savory dishes with dinner or lunch. These mochis are made with premium mochi rice and are filled with a red bean mixture that gives them classic beans and rice taste that goes well with just about anything.
how to make mochi with red beans
Ingredients
160 g Gluten ice cream

160 ml Water

1 TEASPOON Beetroot (powder)

90 g Sugar

200 g Azuki beans (cooked)

1 pinch Salt
Preparation
Prepare the dough: For the mochi dough, first mix the flour with the water, beetroot powder, and sugar to a homogenous mass. Place the dough in a bowl and cook in the microwave at 800 watts for about 4 minutes. Afterward, it should be much firmer and stickier. Let it cool down for 10 minutes.
Prepare the filling: Meanwhile, for the filling, put the beans, sugar, and salt in a saucepan and cover with water. Let it simmer for about 15 minutes until it becomes a creamy mixture. Let it cool down as well.
Filling mochis: Spread some glutinous rice flour on the worktop and roll out the cooled mochi dough thinly. Use a glass or a cookie cutter to cut circles about 10 cm in size. Place a teaspoon of the filling on each circle, gently fold the sides in, and carefully form a ball. The mochis can now be eaten directly or stored in the refrigerator.
What does mochi with red beans taste like?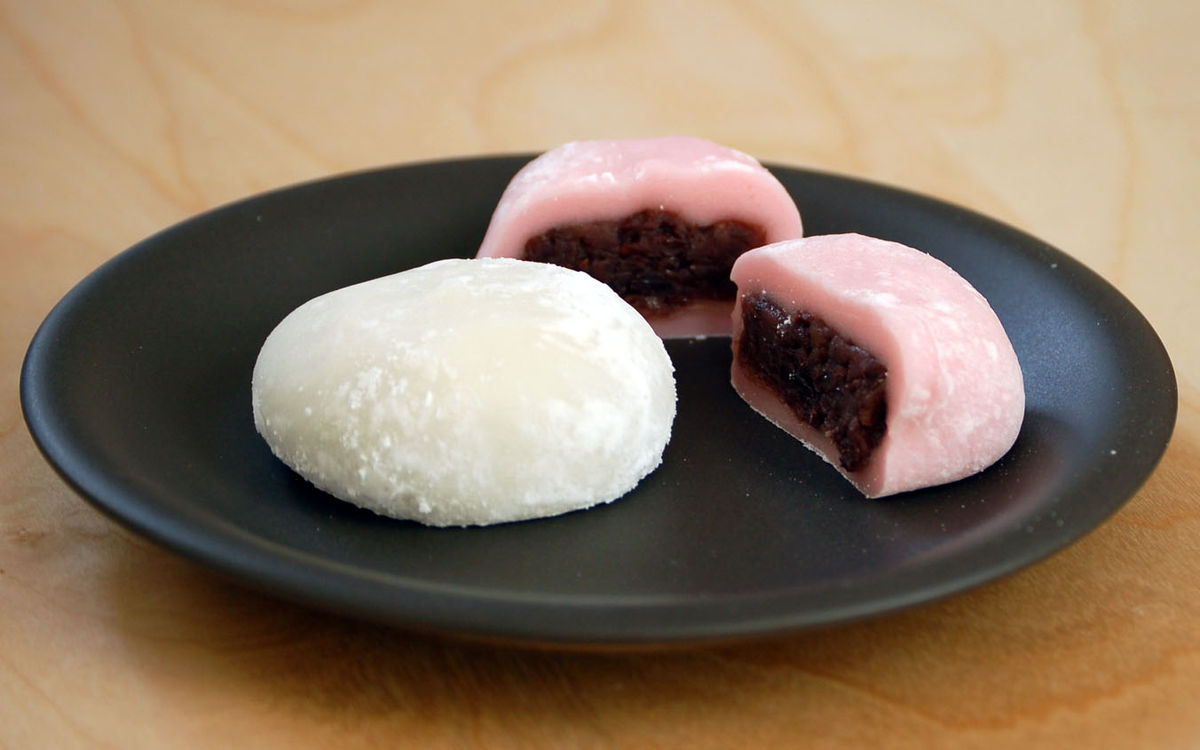 Source: Wikipedia.org
Mochi with red beans tastes like the sticky rice that it is made plus the addition of red beans. The overall flavor profile is savory and a little salty like your favorite bean dishes are. They have a chewy, sticky sort of texture that is unique to only these rice cakes, making them a unique addition to any of your foods. Because they are so dense and sticky, it is important that you chew the mochi slowly and thoroughly before swallowing.
How do you eat mochi with red beans?
This type of mochi is best enjoyed as a side dish to dinners that have similar flavor profiles. The mochi is incredibly filling, leaving you feeling full and satisfied long after you have eaten them.