lychee love fruit from China
Among other things, they contain vitamin C, folic acid, and potassium. Furthermore, lychees are very juicy
Compositions of the lychee: A lot of vitamin C
Lychee is not only healthy because of its high vitamin C content. The B vitamins they contain support various metabolic functions. Lychees also contain folic acid and potassium. Among other things, potassium is important for the excitability of muscle and nerve cells. But the fruit also contains the minerals calcium and magnesium.
Origin of the lychee - China
Originally, lychees probably come from southern China. They have been cultivated there for about 2000 years and are considered to be the fruit of love. Even today, the fruit still comes mainly from Asia. The main producers there are China, India, and Thailand. Apart from Asia, people in Madagascar, South Africa, USA, Mauritius, Kenya, Israel, Australia, and Brazil, for example, cultivate the fruit tree.
Botanics: Lychees maturing in panicles
The lychee tree (Litchi chinensis) from the soap tree family is evergreen and grows slowly. It can grow up to 2000 years old. In its long life, it reaches growth heights of up to twelve meters. The trees have a bushy shape. They carry leaves that are ten to 25 centimeters long and pinnate in pairs. The grey bark and the brown-red colored branches are conspicuous.
The flowers have a strong scent. They are yellowish-white, sometimes also colored in very light green tones. They are pollinated by insects. Fertilized flowers develop into fruits after about three months.
An older tree can produce up to 150 kilograms of them per year. Up to 30 lychees hang together in panicles. The fruits are pink, red, or brownish. With a length of 2.5 to 4 centimeters, they reach about the size of a plum. Lychees are oval, round, or heart-shaped.
The thin skin consists of numerous segments with many, sometimes sharp protuberances. Inside each fruit, there is a dark brown seed kernel about two centimeters in size. The seed is surrounded by the fleshy edible mantle. Botanists do not speak of the fruit flesh here, but of the seed coat, the aril. It smells aromatically of roses and tastes sweet and sour.
lychee season: independent of the seasons
Since lychees are cultivated worldwide, they are available almost all year round. The harvest time is only a few weeks. During the winter months, the goods come mainly from African countries such as Madagascar, in spring from Thailand, and from July to September from Israel.
Storage
Litchis spoil quickly at room temperature, so it is best to eat fresh. Eat opened fruit immediately. In a plastic bag in the refrigerator, intact fruit can be stored for some time.
Tips for preparation
Fully ripe lychees can be peeled like a boiled egg. The tender flesh tastes best on its own. The tropical fruits also refine fruit salads and sweet desserts. As a fruity decoration, they beautify cocktails and bowls. For a refined starter, fill the pitted lychees with a hearty cream. As an addition to rice, fish, or meat dishes, the exotics also taste great.
What is Lychee Fruit Nectar?
Taken from ripe lychee fruit, the Lychee Fruit Nectar is a fruit juice drink that brings all of the unique flavors of this aromatic fruit to you in liquid form. This nectar has 25 percent lychee juice in each can, packing a powerful punch of the floral, sweet flavors that lychee is known for. Not only is it refreshing when served chilled but also delivers health benefits with every sip. Lychee is known for its abundance of the antioxidant Vitamin C, a vitamin that may be able to provide your immune system with the boost it needs to help fight off illnesses.
Lychee fruit nectar is a sweet, refreshing drink that comes from the lychee fruit. The fruit is small, round, and sweet, and it almost looks like a cross between a raspberry and a strawberry from its rough exterior while being white and slippery on the inside. This juicy, delicious fruit is versatile in the way that it can be used to create fruit pies and other treats, offering a bright and summery flavor to whatever you add it to. In this case, it is the Lychee Fruit Nectar.
What does Lychee Fruit Nectar taste like?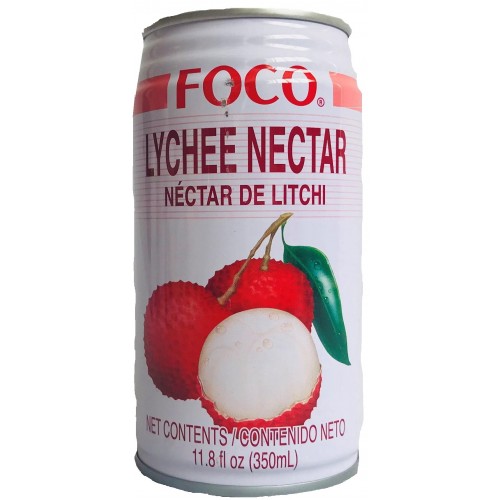 This delicious drink is derived from the lychee fruit with as much as 25 percent lychee juice in each can. The flavor of lychee has floral notes that are one of a kind and unique to this fruit while offering a sweet taste unlike anything else. When served chilled, it even has aromatic properties that make drinking the lychee nectar a refreshing and pleasant experience from the very moment that you crack open the tab on the can.
What are the health benefits of lychee?
Lychee has been used in Chinese medicine for ages because of its abundance of nutrients and purported health benefits. One of the main benefits that lychee is thought to have is its abundance of Vitamin C, an antioxidant that is powerful and potent, able to support the health of the immune system to ward off bacteria. Not only this, but it is full of healthy compounds such as phytonutrients and minerals such as copper, manganese, magnesium, folate, and iron, minerals that are crucial when it comes to forming red blood cells. More than that, the lychee fruit has a natural fiber content that may be able to help regulate the functionality of your digestive system.