This contribution will teach you everything you need to know about the health benefits of coconut milk. Coconut milk, coconut water, or coconut cream? Which is which? Often there is quite a confusion about what coconut milk is at all. If you drill a hole in a coconut, stick a straw in it and drink the coconut with pleasure, then it is the coconut water and not the coconut milk. When you then break open the nut, scrape out the white flesh, put it in the blender together with some warm water, mix thoroughly and then squeeze this mixture, only then you will get the coconut milk. If you would leave the milk to stand for a day, the fat content of the coconut milk would eventually settle at the top so that you can skim it. In this way, you will get pure coconut cream.
Coconut milk has long since been found not only in Asian cuisine but can be used in many different ways. Furthermore, coconut milk shines through its numerous health effects and valuable ingredients. In this article, we would, therefore, like to introduce you to the 7 best ways to use coconut milk.
Coconut milk in the warm kitchen
The most common and obvious way to use coconut milk is to prepare various hot dishes. It is excellent for various meat, fish, and vegetable dishes. It should be noted, however, that coconut milk coagulates relatively quickly and should therefore not be cooked for too long. It is best to add it at the end and let it boil only briefly.
The special taste of coconut milk is particularly effective in combination with curry, coriander, lemongrass, and turmeric. It also helps to reduce the pungency of various spices - especially when using chili and curry paste.
Coconut milk as a baking ingredient
Just try to replace the conventional milk with coconut milk in a baking recipe. Especially in combination with chocolate or nuts this fits quite well and gives a very special flavor. In addition, there are numerous other recipes and possibilities of how coconut milk can be used in baking.
Coconut milk in a smoothie
Most people either use water or use different juices when mixing smoothies. Not only does coconut milk give your smoothie a special aroma, but it also makes it creamy. Especially when combined with exotic fruits such as mango or pineapple, coconut milk is a good choice.
If you want to learn more about what you need to know when making your own smoothies, visit the corresponding blog article about smoothies.
Milk from the coconut instead of conventional milk
Conventional cow's milk can almost always be replaced by a vegetable alternative. Coconut milk is therefore suitable in many applications as a vegan alternative when it comes to the use of milk. Due to its fresh taste and important ingredients, such as lauric acid and other valuable medium-chain fatty acids, coconut milk is worthwhile as an alternative product.
If you would like to learn more about other vegetable milk alternatives, you can also visit our matching blog article and learn more about them.
Cream from coconut milk
It is even possible to make a vegan alternative to cream from coconut milk. You take a lot of coconut milk and put it in the freezer until it is about to freeze. Now you can whip the coconut milk like a normal cream. It can't hurt to add a small amount of cream stiffener and some sugar. This coconut cream can then be used for a variety of desserts. As you can see, the health benefits of coconut milk can also be found when drinking coffee.
Coconut milk in coffee
If you like to have your morning coffee with regular milk, you can also try coconut milk. This gives the coffee a very special aroma and makes it a very special treat - provided you like the taste of coconut. Here too, the medium-chain fatty acids contained in coconut milk can have a positive effect. They act as an energy supplier, which can be especially beneficial in the morning.
Coconut milk as hair care
The health benefits of coconut milk can also be found in hair care. Coconut milk is not only suitable for direct consumption but can also be used as a cosmetic product - for example as a hair care product. To do this, massage a quantity of coconut milk into the hair and let it work for a while. Then the hair should be washed out with shampoo.
The coconut milk ensures that your hair is cared for in a very special way. Coconut milk also gives your hair a special shine and a pleasant and fresh scent. Coconut milk as a hair treatment is especially recommended for people with generally dry hair and dry scalp.
What does coconut milk gluten-free taste like?
Coconut milk, because it is taken from natural coconuts, will indeed taste like coconut. The milk is smooth and thick like classic dairy milk is, and with its tropical, slightly sweet flavor, it becomes tasty milk that can be sipped on its own for something sweet or eaten with cereal. The health benefits of coconut milk are superb in this situation too because it is gluten-free.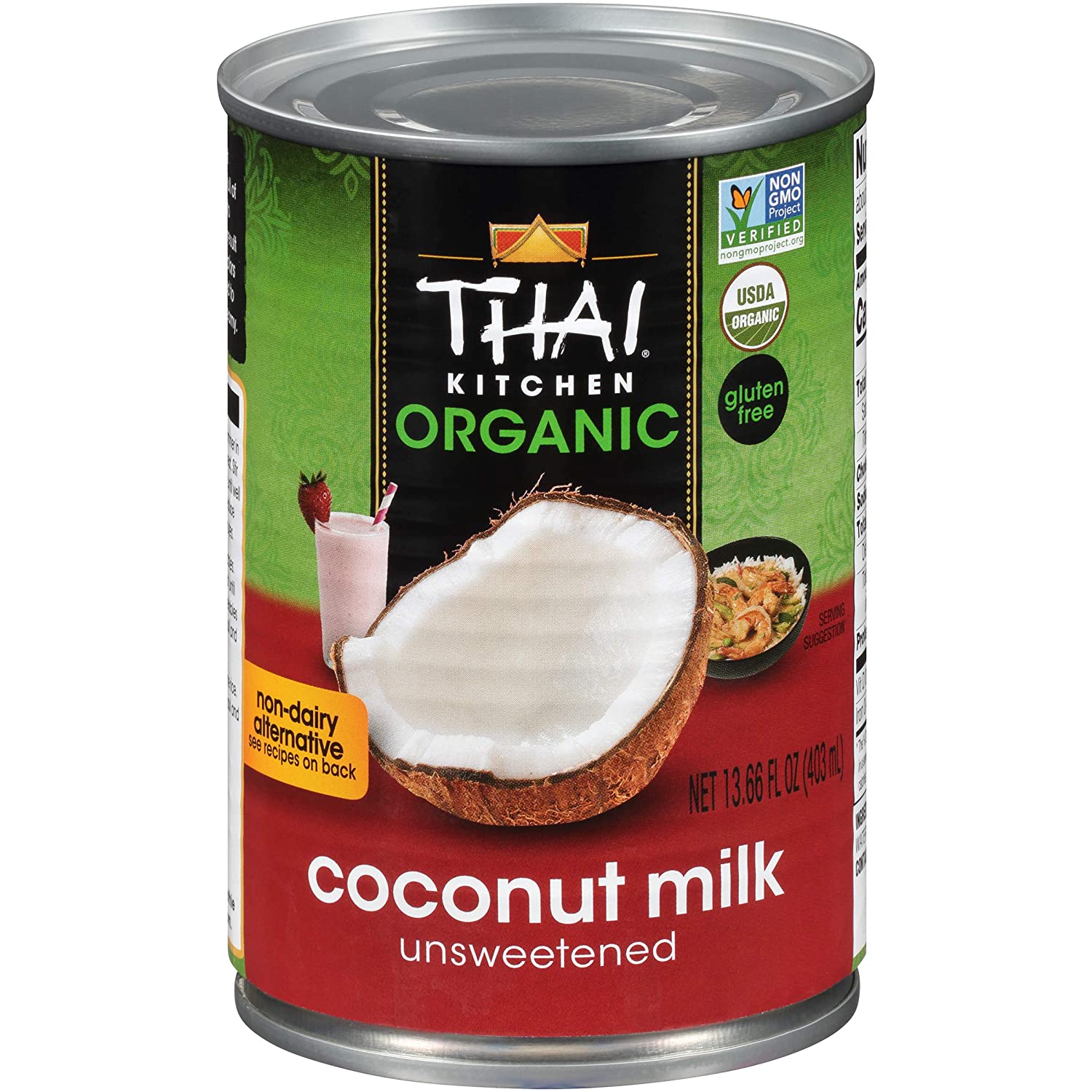 Example of Organic Coconut Milk from our FoodIndex
Is coconut milk a safe dairy-free milk alternative?
Coconut milk comes from coconut fruit, meaning there is absolutely no dairy found in the milk. Not only is it safe for those who are sensitive or intolerant to the lactose found in dairy, but it is also naturally free from gluten, making coconut milk safe for most dietary lifestyles.
Health benefits of coconut milk (gluten-free)?
Besides it being free of gluten for those with allergies, coconut milk retains some of the nutrients and healthy fats that coconut contains. By consuming coconut milk, you will be giving your heart-healthy fats that it may not get from your diet in other ways. These fats are known to help balance out the bad and good cholesterol in the body, making it a decidedly heart-healthy choice.