Before we get to the uses of coconut oil, we would like to tell you more about the oil itself. Coconut oil is one of the most versatile oils on the market. Not only is it able to replace unhealthy ingredients in baked goods such as butter, but it does also so without leaving behind a coconutty taste, enabling you to use it to cook just about anything. Pure coconut oil is full of health benefits as well, one of the most praised among those being its ability to help balance your cholesterol. Not only this, it can be used to extract bacteria in the mouth while also going a long way to improve the health of the skin and the hair.
What is coconut oil?
Coconut oil is an oil that is derived from coconuts, and in the case of our pure coconut oil, it has been extracted using 100 percent natural methods to create the purest oil possible. Coconut oil is used in a wide variety of ways, ranging from cooking to baking to taking care of one's health. This versatile ingredient is one that every person should have in their pantry for this reason.
Thai Cold Pressed Coconut Oil from our FoodIndex
Uses of Coconut Oil - Cooking and baking
Not only health guru Gwyneth Paltrow, but also top model Miranda Kerr swears by the beauty effects of coconut oil - whether in green tea, smoothie, salad dressing, or frying. However, not every nutrition expert can understand the hype about the health effects of coconut oil - after all, this oil consists mainly of saturated fatty acids, of which we already consume far too many. From a scientific point of view, there is still a lot of research to be done on the positive effects of coconut oil. So the motto here should be "Enjoyment in moderation".
Uses of Coconut Oil - Black coffee with butter
This trend has been making the rounds on various blogs for quite some time. A real "Bulletproof Coffee", as the drink is called, needs butter as well as coconut oil. Unhealthy? Probably. But the special drink is so filling that you don't need to eat anything else. In addition, advocates of this coffee specialty expect more energy, a better ability to think, and, due to the saturation factor, a weight-reducing effect. Inventor and blogger Dave Asprey are said to have lost 45 kilos with it. And this is how the original is prepared.
Uses of Coconut Oil for a dental cleaning
Coconut oil nourishes the mucous membranes and helps to heal minor injuries. It is therefore not only suitable for cooking and removing make-up, but also for oral hygiene. For example, the fat of the coconut can be used for oil extraction - a method of strengthening teeth and gums. To do this, put a tablespoon of organic coconut oil in your mouth and pull it through your teeth for five to 20 minutes and suck it. Then rinse the mouth thoroughly with water and brush the teeth.
By the way, you can do this with home-made toothpaste - also from coconut oil. To do this, mix four tablespoons of oil with two tablespoons of baking soda and some peppermint oil and brush your teeth as usual. However, the coconut oil used does not belong in the drain, because it hardens and causes blockages, but should be spat into a paper towel and disposed of in the household waste.
Uses of Coconut Oil for Alleviation of sunburn
The versatile uses of coconut oil can also be seen in this example: Coconut oil can also be used as a soothing household remedy for minor sunburn thanks to its anti-inflammatory properties. In addition, the oil has a cooling effect, allowing irritating skin to relax more quickly. To do this, apply the coconut oil to wet skin directly after showering - that's it. Even better: do not get sunburned in the first place.
Uses of Coconut Oil as shampoo
The oil of the coconut is also suitable for hair care. It is said to make the hair shine and free the scalp from dandruff - especially the lauric acid contained in coconut oil is said to work wonders. To make a coconut shampoo, mix one tablespoon of coconut oil with three tablespoons of grated curd soap, one tablespoon of apple vinegar, and eight tablespoons of water. Now heat the mixture in a water bath until a homogeneous mass is formed - and the shampoo is ready (it should be used within eight weeks).
Uses of Coconut Oil for furniture polishing and wood care
The coconut oil gives wooden furniture a fresh shine and even impregnates it. To do this, simply apply the liquid oil (sparingly) with a soft cotton cloth to the dry, dust-free wooden surface in circular movements, leave to work for a few minutes, and polish with a cloth. Of course, this also works for all other kinds of oiled wooden objects like salad bowls or cutting boards. It is best to test the wood beforehand in an inconspicuous place for color changes.
Uses of Coconut Oil For dogs and cats
Even pets are said to benefit from coconut oil - whether it is used as a food supplement, for coat care, or as fragrant protection against ticks and fleas. If one teaspoon of the oil is added to the feed every day, it can also have an internal effect, for example, to regulate the digestive tract or as a remedy against parasites.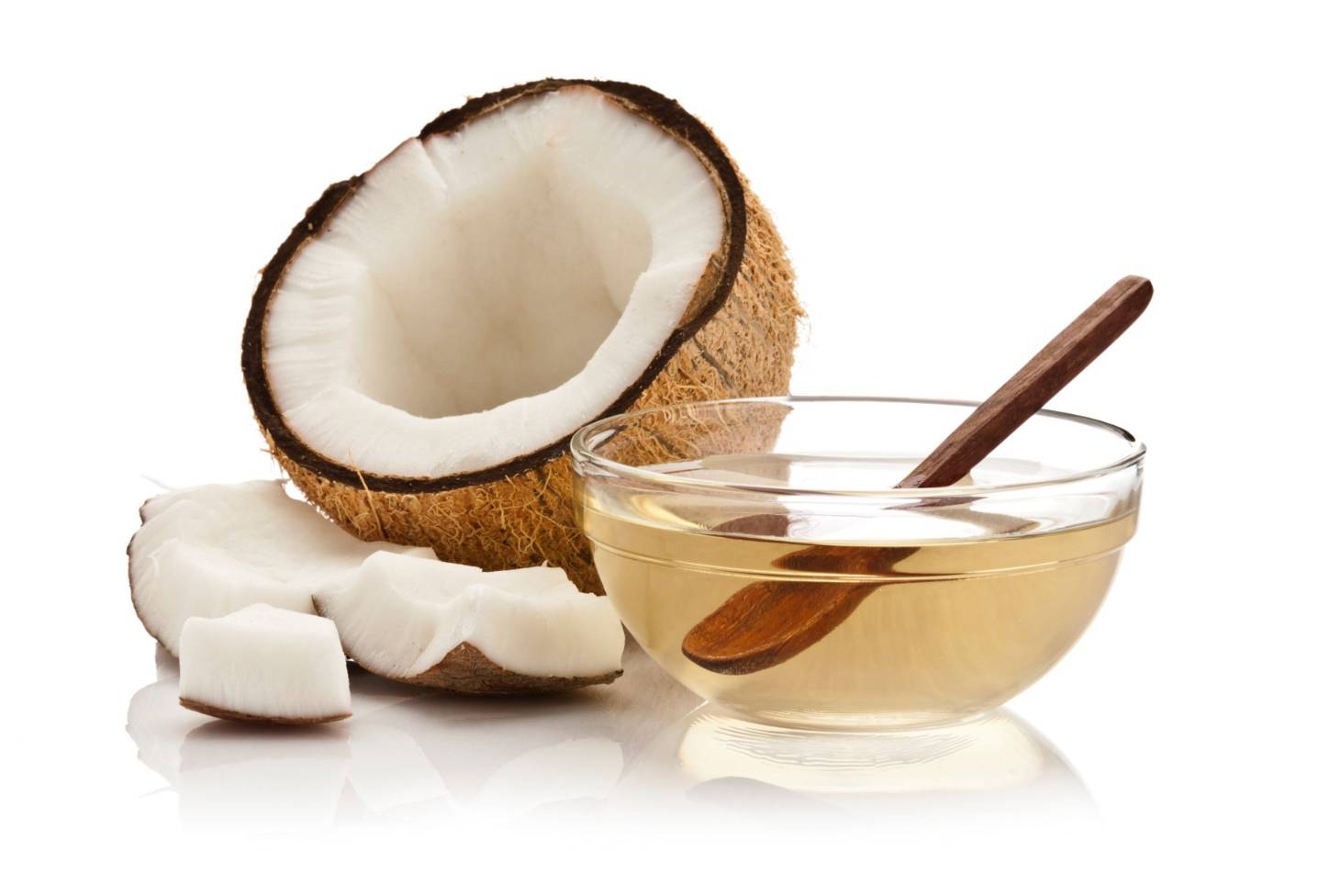 What does coconut oil taste like?
Coconut oil has a wonderful taste just like a tropical coconut and even retains some of its aromatic qualities. When it is cooked or baked with, the taste becomes more neutral. This will allow you to cook with an oil that is known to be healthier for the body than vegetable oil without worrying about your food taking on any coconut flavor.
Other uses of Coconut Oil
Coconut oil is remarkably versatile when it comes to cooking with it. It is able to withstand high levels of heat without evaporating, and it is also used to replace butter in a lot of baking recipes, helping to make your treats a little healthier. Frying your foods in coconut oil is another option that will provide you with the same effects of frying without all of the additional unhealthy fats.
What are the health benefits of coconut oil?
One of the main purported health benefits of coconut oil is its ability to help balance out the good and bad cholesterol in the body. The Health benefits of coconut oil are some that aren't only achievable just by ingesting them. Instead, coconut can also be used on the skin, in the hair, and for the health of the mouth thanks to its ability to neutralize and extract bacteria and toxins.