This bamboo shoots and mushroom stir-fry is an outstanding recipe! The stand-out bit lies in the recipe's unique vegetarian ingredients, delectable sauce, and the skipping of pork/chicken which are commonly used in bamboo shoot recipes. The vegetarian bamboo shoots and mushroom stir-fry version comes with its own set of benefits! It saves prep time, cooks quickly, and is low on the calorie count. Furthermore, the dish is loaded with exclusive flavors, textures, vitamins, minerals, and proteins.
image source: www.pixabay.com
Bamboo Shoot Cooking
The bamboo shoot has long been a part of culinary practices in various South-East Asian Nations, especially China, Japan, Taiwan, and the North-Eastern part of India. Japanese call it "The King of Forest Vegetable". Bamboo shoots are used in making salads, pickles, juice, soups, curries, as well as stir-fries. This natural low-calorie weight-loss ingredient is excellent for the heart, great for curing stomach/intestinal troubles, quick remedy for ulcers, works as a fresh wound/cut cleaner, and many more. The bamboo shoots and mushroom stir-fry need just 10 minutes to prepare and cook. Serve it on a chilled lettuce leaf or enjoy it hot with steamed rice.
Ingredients
Bamboo shoots (250-280 grams) (canned)
Wood ear mushrooms (100 grams)
Ginger paste /minced (1 teaspoon)
Garlic paste /minced (2 teaspoons)
½ red bell pepper
1 white or red shallot
1 carrot
Long beans (1 cup)
Peanut oil (1½ tablespoon)
Salt to taste (optional)
For the Sauce
Light Soy sauce (½ tablespoon)
Sesame oil (1 teaspoon)
Cornstarch (1 teaspoon)
Fermented black beans (½ tablespoon)
Vegetable broth or water (50 ml)
Instructions
Prepare the Bamboo Shoots, Mushrooms, and Veggies
Drain the bamboo shoots and cut them length-wise into 3 inches. Chop the long beans to a similar length. Peel the carrot and cut into matchsticks. Next, slice up the fresh wood ear mushrooms, bell pepper, and shallots to match the 3-inch length.
Prepare the Sauce
To make the sauce, mix all the 5 ingredients (soy sauce, sesame oil, cornstarch, fermented black beans, and vegetable broth) nicely in a bowl.
Cook the Bamboo Shoots and Mushroom Stir-Fry
Place a non-stick skillet on high heat and drizzle the peanut oil.
Add the ginger and garlic paste. Sauté for a minute and lower the flame to medium-high heat.
Next, slide in the sliced mushrooms, carrot, shallot, bell pepper, and beans. Stir fry for 2 minutes until the veggies achieve a slightly softened texture.
Transfer the prepped bamboo shoots and continue frying for 2 more minutes. Stir non-stop and remember to cook the shoots well, yet keep them crunchy.
Now, it's time to whisk the sauce with a fork and pour it all over the fried ingredients. Mix it all up by stirring rapidly for a minute on high flame. Turn off the stove.
Give the dish a quick taste. If needed, season with salt. Mix the seasoning and remove it on a plate!
Your bamboo shoots and mushroom stir-fry is ready! Serve it hot to enjoy its crispy texture.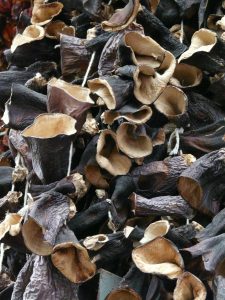 image source: www.pixabay.com
Tips
When using fresh bamboo shoots, you need to boil them before cooking. If you don't have peanut oil/sesame oil, use vegetable oil instead. This recipe uses fresh mushrooms. In case you have the dried ones, soak them in water for 30 minutes so that they soften before slicing them. To increase the bamboo shoots' and mushroom's stir-fry recipe's health effects, you can add broccoli florets and snow peas. When using these two veggies, you need to boil them before frying.