The black chickpeas salad is a popular Indian street food that is surprisingly healthy! The sight and smell of this oil-free fresh vegan salad get the mouth salivating to dig into the sweet, salty, tangy, and spicy taste experience. A bowl of black chickpeas salad can be consumed at any time. Prepare it for your hiking or outdoor adventures to feel energized throughout the day. It can serve as a delectable protein supplement before or after a rigorous workout session as well.
Why Make this Salad?
The best thing about having homemade black chickpeas salad is that it is super delicious, yet totally healthy!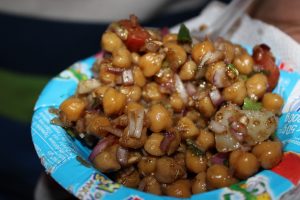 image source: www.pixabay.com
Speaking of flavor & texture, this vegetarian salad combines the nuttiness of chickpeas with the crunch of shallots, the juiciness of tomatoes, some chili heat, a subtle gingery zest, aromatic freshness of herbs, tangy tamarind sauce sweetness, along with a flavor punch of cumin powder and chat masala. The fibrous 'black chickpeas' are a protein-rich ingredient loaded with essential vitamins and minerals. Chickpeas are quite filling. Therefore, having this vegan black chickpeas salad is a yummy way to manage calorie intake & maintain a fit body.
Ingredients
In order to make the black chickpeas salad, you'll need:-
Black Chickpeas (200 grams)
1 Potato (large sized)
2 Red shallots (medium-sized)
2 Tomatoes (medium-sized)
1 Green Chili
Ginger (1 teaspoon)
Fresh Coriander leaves (2 tablespoons)
Fresh Mint leaves (2 tablespoons)
Tamarind (1 tablespoon)
Chat Masala (1 teaspoon)
Cumin Powder (1 teaspoon) (optional)
Salt
Instructions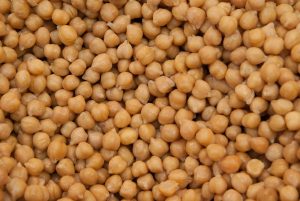 image source: www.pixabay.com
Prepare the Chickpeas, Veggies, and Herbs for the Salad
Soak the chickpeas overnight or for 6-8 hours. Drain the water and boil them in a pressure cooker with 500ml water for 10 minutes. Let it sit in the cooker for 5 more minutes. Then, drain the water and keep aside. Boil the potato, peel the skin and mash it up roughly. Peel the ginger and mince it. Finely chop the red shallots, tomato, chili, coriander leaves, and mint leaves.
Prepare the Tamarind Sauce
Soak the fresh tamarind pulp in 100ml water with a pinch of salt. Once the tamarind softens, get the juice out. Strain the thick tamarind juice through a sieve to collect the smooth tamarind sauce.
Making the Black Chickpeas Salad
Put the boiled chickpeas in a large bowl. Add the mashed potatoes and mix well.
Add the chopped shallots, tomato, chili, and minced ginger. Mix again.
Sprinkle the chat masala, cumin powder, salt, and give it a nice mix.
Drizzle the freshly made tamarind sauce and combine all the ingredients together.
Finally, toss in the fresh mint and coriander leaves, mix lightly and serve.
Your protein-packed "Black Chickpeas Salad" is ready!
Tips
If you cannot find fresh tamarind, you may use bottled tamarind sauce.
Add some palm sugar or brown sugar to balance the sourness of tamarind sauce.
To consume the black chickpeas salad every day; just skip the chat masala, cumin powder, and tamarind sauce. Instead, squeeze some lemon juice and season with black salt.