Are you up for some fresh homemade chive blossom and cheese cookies? Having a glass jar or a tin case full of yummy cookies is pure joy! The chive blossom and cheese cookies are an easy-to-bake vegetarian recipe! You can make batches of these tempting cookies for your unpredictable snack sessions or enjoy them with tea or coffee. Additionally, you may parcel them to your loved ones during Christmas or other special occasions.
How to Cook
You can prepare and bake the delicious chive blossom and cheese cookies within half an hour. The golden drool-worthy sweet cookies taste lusciously buttery, cheesy and delicately zinged with white vinegar.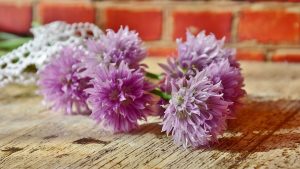 image source: www.pixabay.com
The vibrant purple chive blossoms delectably bring in a mellow palate satisfying onion flavor. Along with the lovely flavor, chives are highly nutritious and filled with beneficial vitamins. Furthermore, they serve as a fabulous antioxidant and are low in calorie content too. This chive blossom and cheese cookies recipe is made with chive florets, while you can also use the edible green chive stems.
Ingredients
Flour (1 cup)
Butter (unsalted, 2 cubes)
Chive flowers (3 Tablespoons)
Buttermilk (Half a cup)
Cheddar cheese (Half a cup)
White vinegar (Half a teaspoon)
Baking powder (2 teaspoons)
Light brown sugar (1 tablespoon)
Salt (a pinch)
Instructions
Prepare the Chive Flowers and the Cheddar Cheese
Chop the fresh chive flowers and keep them aside. Finely grate the cheddar cheese in a separate bowl.
Prepare the Cookie Dough
Take a well-sized bowl and fill it with all-purpose flour, baking powder, vinegar, butter, sugar, and salt. Combine all the ingredients together to form a grainy mixture.
Add the chopped chive florets, grated cheese, and buttermilk to the mixture. First, combine with a spatula to form the rough dough. Next, knead it well to achieve the smooth dough texture.
Bake the Chive Blossom & Cheese Cookies
Start off by setting your microwave at 220 degrees Celsius for preheating.
Roll out the prepped dough until half an inch thick. Grab your favorite cookie cutter and get cutting. Collect the left-over scraps, combine into one ball and roll it out. Cut again using the cookie cutter.
Now, time to place the silicone baking sheets and line up the baking tray.
Put the raw cookies carefully on the baking sheets and pop the tray in the preheated oven.
Let the cookies bake for 15-20 minutes. Take them out when gorgeously golden in color.
Your homemade chive blossom & cheese cookies are ready!
Tips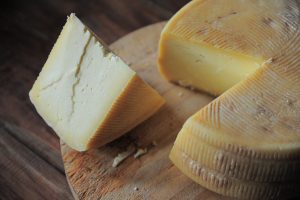 image source: www.pixabay.com
Melt the butter before adding to the mixture! This helps mix the cookie dough quickly and easily.
Two good substitutes for white vinegar are lemon juice and cream of tartar.
This recipe uses light brown sugar and cheddar cheese as they both give the chive blossom & cheese cookies a beautiful color. You can alternate it with white sugar and any cheese available.
If you don't mind some extra cheese, you may top your raw cookies with some grated cheddar cheese before baking.