The first thing that usually pops to one's mind when you have dumplings within reach is anything but dumpling sauce. Most people usually get hold of chili oil, vinegar, teriyaki, etc. And these sauces are remarkable as well. However, what if the dumplings you were given are the frozen type which is low quality? The only way out is to go with a homemade dipping sauce.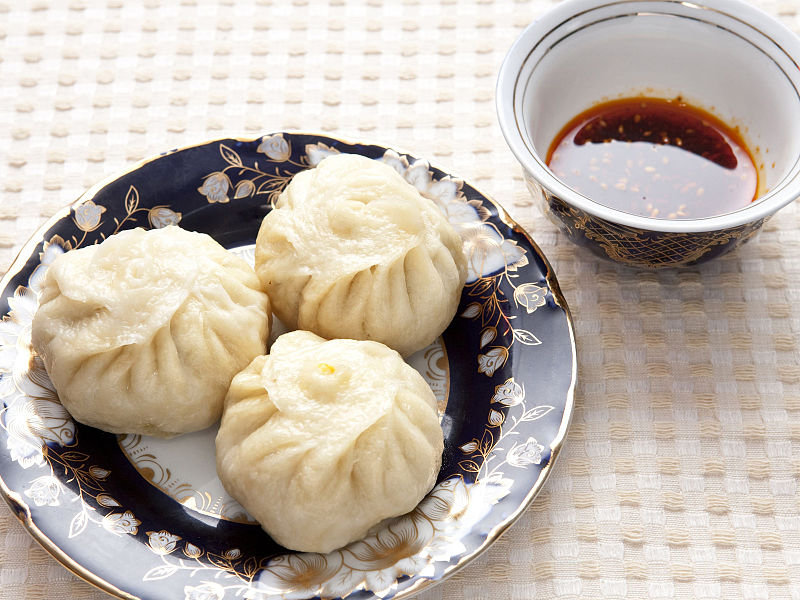 image source Wikipedia
Please, take note: no one said frozen dumplings are usually not topnotch. Dumplings are frozen to save on both time and effort. Without this, you may have to bear with extended cooking and prep times.
Kimchi and Honey Dipping Sauce
Only a few people have heard of kimchi paste before now. This paste is composed of:
Garlic
Lime juice
Pepper flakes
Ginger
Salt
Sugar
Fish sauce
Water
This sharp and punchy pureed kimchi paste is also incredibly refreshing.
How to Make It Dip-Worthy for the Dumpling
Since the kimchi paste is too concentrated and dry for dipping, it will unceremoniously overshadow the dumpling. Therefore, you must make the paste dip-worthy. And this can only be possible with the addition of sesame seeds, melted butter, kimchi paste, and honey. Combine all these ingredients and pour them into a saucepan. Apply heat to the mixture and stir continuously. After approximately 10 seconds, what you will have in the saucepan is thick but smooth enough for dipping your dumpling. The sauce is spicy, buttery, and intensely sweet.
image source www.FoodPorty.com
What to Do with Leftovers
You can put away the leftover in the fridge where it remains emulsified even after it hardens. You can always heat it on your stove or in the microwave to restore its former glory.
Other Dumpling Dipping Sauces You Can Try
There are several dipping sauces that you can try for variety. They are as follows:
Ponzu-Ginger Dipping Sauce
This is a Japanese sauce that is made using the following ingredients:
Bonito flakes
Mirin
Seaweed
Citrus
Vinegar
Ponzu may be great on its own, but there is no harm in enhancing the sauce with other flavors. You can stir in more mirin just for extra flavors, then add grated ginger for exquisite heat. It goes well if the dumplings are stuffed with chicken or vegetables.
Coconut Curry Dipping Sauce
The ingredients used in making this sauce include:
Red curry paste
Soy sauce
Coconut milk
Fish sauce
Honey
All you need to do is to cook the red curry paste in coconut milk and mix with the other ingredients. You can intensify the taste of this mildly sweet combination with lime juice and fresh ginger.
Conclusion
The kimchi and honey dipping sauce are economical and intensely tasty. However, you can also try your hands on preparing any of the other dipping sauces listed here. Variety, they say, is the spice of life. So, don't be fixated on only one type of dumpling sauce. Diversify and enjoy more of what life has to offer by making tasty dumpling dipping sauces every day!