Sriracha is a popular Thai sauce with a complex and distinctive taste. It is not particularly difficult to produce and the result is overwhelmingly good. Although it takes about a week to be finished, the preparation time is hardly worth mentioning. In less than half an hour Sriracha Hot Sauce is mixed. Afterwards, the homemade chilli sauce has to be stored for a few days in order for it to develop its full aroma.
The specialty of the Sriracha sauce is, of course, its sharpness, which is because of the beautiful and ripe chiles. In addition, a salty, sweet and sour taste also comes into play. This taste combination has probably led to a Srirachasauce on most tables of the Asian restaurants.
Use of Sriracha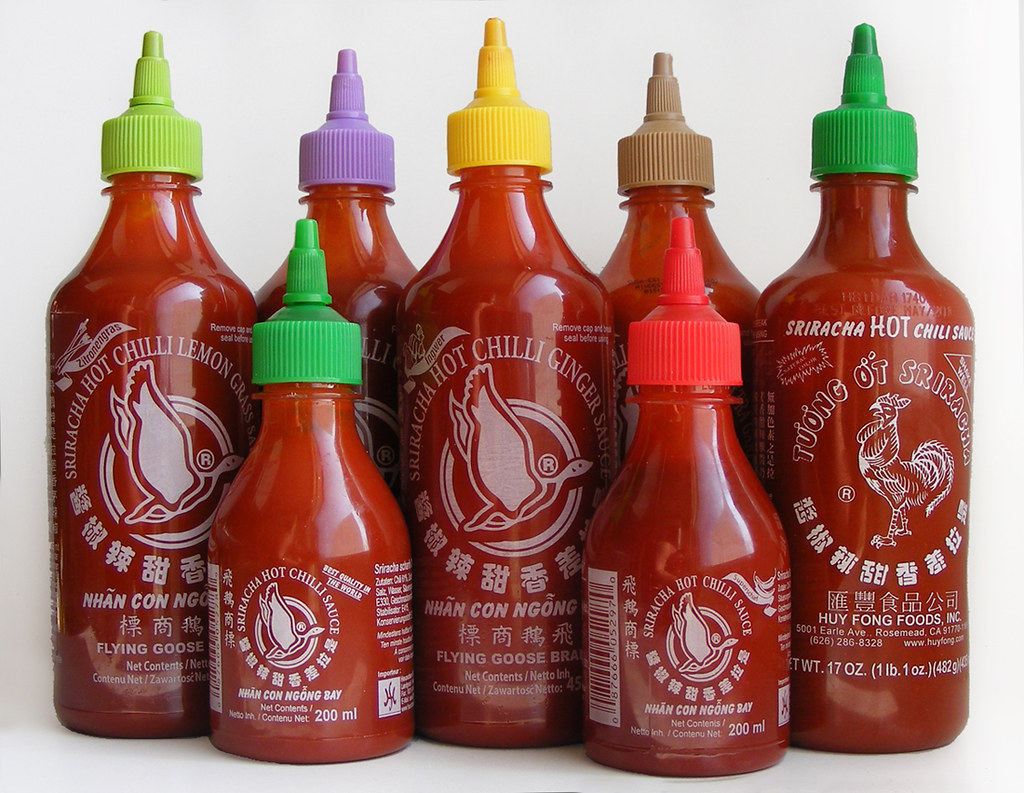 Sriracha Sauces available in our online shop[/caption] Originally, the sauce comes from the Thai town of Si Racha. Therefore, the name of the spicy sauce, which is also spoken by Thai "Si-Lascha". As it is for a coastal town, there is plenty of seafood there. This hot sauce has been developed precisely for this kind of delicious food. According to current knowledge, the sauce was invented in the 1930s by Mrs. Thanom Chakkapak. Around 1980, it became popular because of David Tran in Los Angeles. Today it is served to nearly every Asian dish. (As dipping sauce or seasoning fish, meat and noodles. Today, Sriracha is almost identical with mustard and ketchup. In the Kajun kitchen, which originates from the area around Louisiana, this kind of chilisauce is known as the greatest sauce. There is probably no better hot sauce for crustaceans than this Thai hot sauce.
Ingredients
250g chilli peppers
1 - 2 cloves of garlic
1 - 2 tablespoon of cane sugar
50 ml of vinegar
2 - 4 teaspoon salt if necessary
about 50 ml of water
Chop off the Jalapeños' head and remove seeds roughly. Peel the garlic cloves. Mix with salt and sugar in a clean blender to a pulp. This paste can be bought in sterile jars. Unfortunately, we could not find any preserving jars with fermentation tubes in Switzerland. Either you get the individual parts yourself: preserving jar, lid with gas bottle or look at marketplaces in America. It is important to sterilize them beforehand. You can do this by rinsing jars with hot water or heating to 80 ° C in the oven. Srirachapaste should now ferment 3 to 5 days. We like to do it in the fridge, even if it is recommended at room temperature. After the fermentation, the Srirachapaste in inserted into the mixer again. Add vinegar and mix. Add the water slowly until the correct consistency is reached. The amount of water depends on the type of chili and other ingredients. Press the mass through a sieve in a pot. The Sriracha sauce will heat you to the end until you start to simmer. Stir a few times, season with salt, sugar, vinegar and fill in clean preserving jars. Guess what, your homemade Sriracha Hot Chili Sauce is finished!
Durability
Purchased Sriracha can be stored in the refrigerator for about 6 months. Our homemade chilisauce, after it has ripened for a week, is relatively quickly used up. Remember to work as sterile as possible so that no germs can spread. In addition, the capsaicin acts as an antibacterial in the sauce.