Turkish Kebab has a great and diverse variety of tastes and flavors but most people only know about doner and shish kebabs. However, today we will introduce you to another delicious kebab recipe named Alinazik Kebab, which has a creamy base of grilled pureed eggplant that is mixed with thick yogurt. On top of that is the layer of ground lamb kebab meat which is nicely cooked in butter and tomato sauce. We have used finely chopped cubes of lamb with some fat of sheep tail. However, you can use ground meat too at home. Served with Turkish buttery rice, Alinazik Kebab will delight your taste buds and offer you such amazing taste that you just can't forget or replace it. So let's start this mouth-watering Turkish recipe and note the ingredients
Alinazik Kebab
Ingredients
For Grilled Eggplant
4 thick and soft eggplants
2 garlic cloves
3 tbsp of olive oil
Salt to taste
Black Pepper to taste
3/4 cups of thick plain yogurt
For Alinazik Kebab
400-grams ground lamb meat finely chopped
2 tbsp. of butter
1 tbsp. of tomato paste
1 tsp. of ground red chili powder
1/2 tsp. of ground black pepper
Salt to taste
1/2 red bell peppers chopped
1/2 green bell pepper chopped
Parsley for garnishing
2 tbsp. of olive oil
For Turkish Rice
2 tbsp. of butter
1 cup of soaked rice
2 tbsp. of orzo or vermicelli
2 cups of hot stock
Preparation Instructions:
Preparing Eggplant Base;
First, poke the eggplants with a knife from all sides and place them in a grill pan.
Now grill the eggplants at medium-low heat until they become soft enough and their skin can be peeled off easily.
Once done, let them cool a little bit, with the help of a knife cut each eggplant from the center and scoop out the flesh completely; remember, we are not using the skin and stem of the eggplant in our recipe.
Now drain the excessive watery content from eggplant and mash it thoroughly to form a puree.
Heat olive oil in a pan; add garlic and sauté until fragrant.
Add mashed eggplant and stir for a while.
Add salt and black pepper and mix well
Now switch off the heat and keep it aside for final assembling.
Preparing Kebab
Heat butter and olive oil in a flat Turkish-styled pan, add ground meat, and cook until it changes color.
Now add chopped green and red bell pepper and sauté for a while.
Add tomato paste, salt, and black pepper, ground red chili powder and stir well until combined.
Once the oil separates the meat, add 3 to 4 tbsp. of hot water and cook for another 5 minutes at low heat.
Kebab meat is ready for assembling.
Preparing Turkish Rice
In a deep bottom pan, add butter, orzo and sauté and fry until it gets brown color.
Now add 1 cup of soaked rice and cook for 2 minutes more but remember to not burn the rice or orzo.
Add stock in rice and let it get a boil.
Once boiled, lower the heat at medium and let the rice simmer for 8 to 10 minutes or until stock evaporates.
Now switch off the flame and cover the pan with the lid firmly.
Let the rice stand like this for 5 minutes.
Turkish rice is ready to serve, so remove the lid and fork the rice.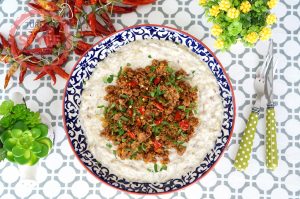 Turkish recipe
Final Assembling:
As mentioned in ingredients, at this point, add plain yogurt into eggplant puree and mix well.
Now take a serving dish and first make a base of eggplant puree and then pour kebab meat in a layer form on puree while leaving edges empty and garnish with parsley.
The delicious, creamy, and satisfying Alinazik Kebab with Turkish rice is ready to serve. Enjoy!