The Ottoman Empire has given great gifts to the world, especially the heritage of Turkish cuisine, which has amalgamation and sophistication of many culinary cultures including central Asian, Middle East, East Europe, and Balkan. But, today we can see that Turkish Food has influenced many of its neighboring cuisines and blended diverse culinary traditions while creating a vast collection of specialties. However, when it comes to breakfast, Turks usually prefer very rich breakfast options and In a typical Turkish breakfast, you will have loads of cheese, butter, olives, eggs, tomatoes, cucumber, strawberry jam, sausages and most importantly Kunafa. The rich hash brown Kunafa is a very distinctive recipe in Turkish breakfast and made off with hash browns that you can prepare at home. In the center, you will have cheese layers and for a crispy shiny look, we will coat the outer layers of Kunafa with vermicelli and olive oil. Potato and cheese lovers will cherish this recipe and serve with traditional Turkish tea. So let's start this astounding recipe but first note ingredients.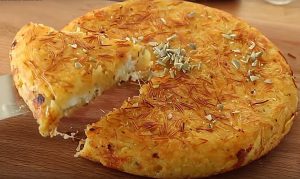 Turkish Kunafa
Ingredients
6 medium-sized potatoes
1 egg yolk
3 tbsp. of olive oil
salt and ground black pepper to taste
1/2 tsp. of red chili flakes
2 tbsp. of cornflour
1/2 cup of Vermicelli
1/2 cup of Grated Mozzarella cheese
1/2 cup of ricotta cheese crumbled
Olive oil to cook
Preparation Instructions
First, boil potatoes in a saucepan with enough water; just remember we have to use undercook potatoes for this recipe, so they must be a bit hard after boiling.
Once half-boiled, drain water from the potatoes right away as they can absorb water and become soft which we don't need.
Let the potatoes cool down and then peel off them.
Now grate the potatoes with a large size grater to get big chunks in the mixture.
Add the grated potatoes in a mixing bowl and add salt, black pepper, red chili flakes, egg yolk, cornflour, and olive oil.
Mix well this Kunafa batter with spices until it becomes sticky.
Now take grated mozzarella and ricotta cheese in two separate bowls and start assembling.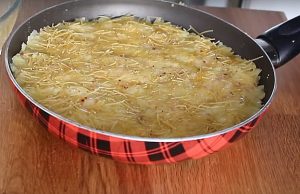 Process of Assembling
For assembling, take a medium-sized frying pan and drizzle some olive oil on it.
Now sprinkle small pieces of vermicelli to cover the bottom of the pan.
At this point, set potato mixture on vermicelli in the form of a thick layer.
Sprinkle mozzarella and ricotta cheese one by one on potato layer.
Again make another layer of potato mixture on cheese and cover this layer with vermicelli and olive oil.
Once finished, press the whole kunafa mix with the back of a glass to firm it more and switch on the heat.
Cook one side for 5 minutes on medium flame and then turn to the other side with the help of flat lid to avoid any breakage.
Once you see Kunafa is getting a golden brown color from both sides, switch off the heat and transfer it onto a serving plate.
Garnish this beautifully looking Kunafa with some pine nuts and pistachio.
Cut the delicate golden hash brown Kunafa into pieces and serve with Turkish tea. Enjoy!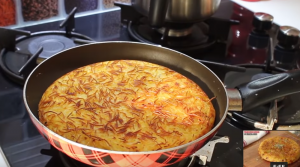 Golden hash brown kunafa
Tip and Tricks:
Do not overcook potatoes while boiling to achieve firm and adhesive mixture.
Coat each side of kunafa with olive oil while cooking to get a golden brown color of vermicelli.
Try to flip the kunafa as much as required to cook it fully, you may use a flat plate with a kitchen towel for this purpose.