This turkey sandwich with two spreads is a devouring snack. You can make it for breakfast, brunch, or dinner.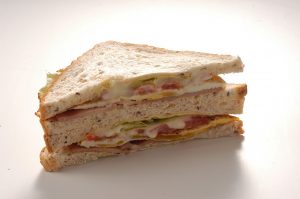 image source: www.pixabay.com
The creamy roasted eggplant spread with garlic and cumin spice flavors is utterly delicious. The cheesy mayo tahini spread with little crunchy bits of onion, juicy tomato pieces, the freshness of coriander, and a slight tang from the lemon juice fills the mouth with a burst of flavors. Once you try this turkey sandwich with two spreads, you'll crave it every week. The spreads are so yummy that you would want to try it on all your wraps, rolls, burgers, and tortillas.
How to Cook
It takes about 5-10 minutes to make this turkey sandwich with two spreads. To make the club sandwiches, you ought to first make the eggplant spread and then make the tahini spread. Once done, simply assemble the sandwich with the spreads, turkey slices, and fresh arugula.
Ingredients
Things you'll need for the turkey sandwich with two spreads
3 bread slices
Sliced turkey (6-10 slices)
½ cup of arugula
For Roasted Eggplant Spread
1 tablespoon of extra virgin olive oil
1½ tablespoon of garlic (minced)
1 teaspoon of cumin powder
½ a cup of roasted eggplant puree
For Tahini Spread
2 tablespoons of tahini sauce
1 tablespoon of mayonnaise
1½ mascarpone cheese
1 ripe tomato (chopped)
1 small onion (chopped finely)
3 tablespoons of coriander sprigs (chopped finely)
1 lemon (juiced)
Instructions
Prepare the Roasted Eggplant Spread
Heat the oil in a pan. Add the minced garlic & cumin powder. Sauté for 1-2 minutes!
Add the roasted eggplant puree. Mix and stir fry for a minute.
Turn off the stove. Transfer the roasted eggplant spread in a bowl. Cover and place it in the fridge to chill.
Prepare the Tahini Spread
In a bowl, mix mayonnaise, tahini sauce, and mascarpone cheese. Add chopped tomatoes, onions, coriander sprigs and lemon juice. Mix it all up and keep aside.
Assemble the Turkey Sandwich
Line up 3 bread slices.
Take the 1st bread slice and apply a thick layer of the Tahini Spread. Top it with sliced turkey and arugula leaves.
Take the 2nd bread slice and layer it with the roasted eggplant spread. Place it on top of the arugula leaves (eggplant spread side down). On the top side repeat the layering like the 1st bread slice.
Take the 3rd bread slice and apply a generous portion of the roasted eggplant spread and seal the sandwich with it.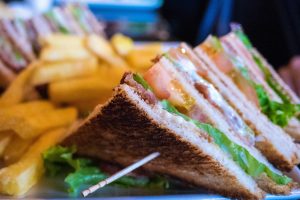 image source: www.pixabay.com
Finally, slice the turkey sandwich and enjoy it! You can drizzle some tahini sauce on top if you desire.
Tips
You can also make this club sandwich with chicken slices, prosciutto, and bacon.
In case you don't like onions in your sandwich, swap it with chives.
If you don't have mascarpone cheese, you may use cream cheese, goat cheese or yogurt to get a similar creaminess in this turkey sandwich with two spreads.