"Chili con veggie" is a vegetarian twist to the famous Mexican dish- chili con carne! Interestingly, it tastes delicious even without the meat. This filling spicy stew is appropriate for lunch and dinner. It's usually served with steamed rice, yet you can also enjoy it with your home-baked bread.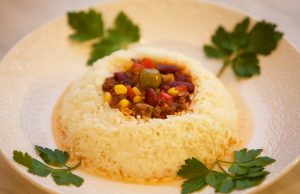 image source: www.pixabay.com
This chili con veggie recipe includes various vegetables, legumes, herbs, as well as aromatic spices. It gives the body the much-needed protein, vitamins, and minerals. The best part about cooking chili con veggie is that there is no hard and fast rule regarding the use of ingredients. Spice it up with as many chilies you prefer and relish it right out of the pot, warm, or at room temperature.
Ingredients
Things you'll need to make the stew:
200 grams of kidney beans
1 cup of roasted pumpkin chunks
1 large red onion (roughly chopped)
4-5 garlic cloves (de-skinned & minced)
2 ripe tomatoes (chopped)
½ bottle of tomato juice or puree
1 cup of corn kernels
1 red & 1 yellow bell pepper (de-seeded & chopped)
2 jalapeño chilies (chopped)
2 handfuls of coriander sprigs (chopped)
1 teaspoon of cinnamon powder
1 teaspoon of cumin seeds
Salt, cayenne pepper, & ground black pepper (1 teaspoon each or as per taste)
Olive oil
Water or vegetable broth (400-500ml)
Instructions
Prepare and Roast the Pumpkin for the Stew
Wash and cut the pumpkin (with skin). Remove the gut & seeds. Dice them into medium-sized chunks.
Preheat oven at 200°C.
Place the pumpkin pieces in a baking tray. Drizzle some olive oil, sprinkle salt, pepper, and cinnamon powder. Give it a quick mix.
Place the baking tray in the oven for 18-20 minutes.
Cook the Chili Con Veggie Stew
Place a heavy-bottomed pot on the stove. Drizzle 3 tablespoons of olive oil and let it heat over a high flame.
Next, lower the flame to medium. Add the veggies- chopped onion, minced garlic, corn kernels, and chopped peppers (red & yellow). Stir fry for 2-3 minutes.
Flavor the veggies by sprinkling some cinnamon powder, cumin seeds, cayenne pepper, crushed black pepper, and salt. Cook for 3 more minutes by stirring frequently.
Now, add in the chopped coriander sprigs along with the chopped jalapenos, kidney beans, chopped tomatoes, and tomato juice. Cook for 2 minutes.
Pour in the water/vegetable stock. Give one nice stir and then let the veggies simmer for 30 minutes.
Finally, add the roasted pumpkin and some freshly chopped coriander sprigs. Stir once and turn off the gas.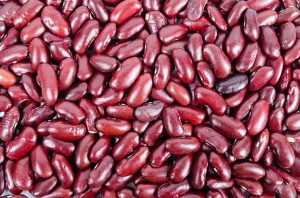 www.pixabay.com
Your chili con veggie stew is ready! Serve it with warm steamed long grain basmati rice.
Tips
Besides kidney beans, you can also use pinto or black beans into the stew.
A great substitute for roasted pumpkin is roasted sweet potato.
For additional texture, you can add half a cup of bulgur in this chili con veggie recipe.