Portuguese cuisine is famous in Atlantic food and has a strong influence on Mediterranean sustenance. Seafood is very prominent in Portuguese food as Portugal is comparatively famous to consume more fish than most nations in the world. The colonial possession of Portugal in different countries is also reflected in the numerous spices and flavors, especially peri-peri, cinnamon, saffron, and vanilla. That is why these spices are considered foundations of Portuguese cuisine and are used both for cooking and flavoring. Olive oil, bay leaf, garlic, herbs, and fresh coriander have multiple classifications and usage in Portugal when it comes to culinary art. Portu Chicken is also a very unique and popular recipe of Portugal and relished by everyone. You can cook it in two ways: either barbeque or bake. Chicken thighs marinated with local spices and olive oil will give you an exceptional taste and unparalleled flavor. So let's start this tasty recipe and note down ingredients.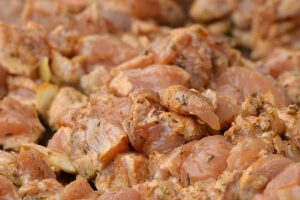 Marinated Chicken
Ingredients
6 chicken thighs
1/2 tbsp. of smoked paprika
1/2 tbsp of sweet paprika
1/2 tbsp of ground cumin
1/2 tbsp of ground coriander
1 tbsp. of oregano
1 tbsp. of onion powder
1 tbsp. of garlic powder
1 sprig of rosemary
3 sprigs of thyme
3 bay leaves
Quarter tbsp. of Cayenne pepper
3 tbsp. of olive oil
1 lemon juice
Salt and black pepper to taste
3 red bell peppers (optional)
Preparation Instructions
Preparing marination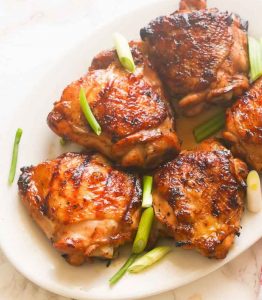 Grill chicken thighs
First Cut the chicken thighs into three or bite-size pieces and put in a mixing bowl.
Now add all the herbs and spices, salt & pepper, lemon juice, and olive oil, and mix well to marinate.
Cover the mixing bowl with a cling wrap and place it in the fridge for three hours minimum or ideally 24 hours for marination.
Now we have two options to cook, first is barbecuing and for that, heat a grill pan on medium heat and brush with some vegetable oil.
Once hot, add chicken pieces and cook each piece for almost 3 to 5 minutes from both sides.
In case of baking, take bell peppers and brush them with some olive oil on each pepper.
Now place a parchment paper in a baking tray and add bell peppers to bake in a preheated oven for 20 minutes at 400 degrees.
Once baked, there must be some blisters on the skin but for now, cover them with a cloth until they cool down.
Once cooled adequately, remove stems with seeds and peel off the burned skin and Slice peppers into strips.
Add the marinated chicken into a baking dish along with the baked strips of bell peppers.
Mix well with the chicken and place it again in a preheated oven to bake for 30 min at 350 degrees.
Once done, transfer the chicken into a serving dish, garnish with parsley and serve hot. Enjoy!
Tips and Tricks
For even better flavor in chicken, add white wine before marination.
Adding bell pepper will also enhance the taste, but still, it is optional.
Try to marinate the chicken as much as you can as it is good for your health.