Chicken Kabsa is a luxuriant looking Arab family recipe that is cooked and enjoyed at frequent get-togethers and family occasions. Kabsa is composed of many healthy nutrients acquire from Basmati rice, vegetables, chicken, dry fruits, and a blend of distinctive spices. Originally, Chicken Kabsa is from Yemen, but now it's serving similarly in all Arab countries as dinner cuisine including Saudi Arabia, Kuwait, Jordan, Qatar, Dubai, and Turkey. Being an extremely popular cuisine, Kabsa has gone through many improvised versions and made in different ways in different countries, however, its taste and appearance always look grand and awe-inspiring. Hence, let's start the delicious chicken Kabsa right away and note down the ingredients.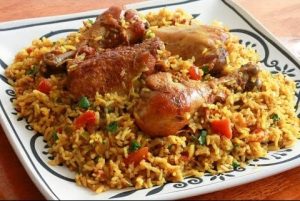 Chicken Kabsa recipe
Ingredients
1000-gram of chicken plus 6 chicken raw drumsticks
1/4th cup of vegetable oil
2 onions sliced
340-gram of tomato puree
2 medium-sized of tomatoes chopped
4 garlic cloves chopped
2 tsp. of minced ginger
2 carrots grated
1 grated orange zest
Juice of 1 orange
5 pods of cardamom crushed
2 sticks of cinnamon
2 cups of Basmati rice, washed and soaked for 40 minutes
½ cup whole almonds without skin or blanched almonds
Salt to taste
Ground black pepper to taste
1 tsp. of ground cumin
½ tsp. of turmeric powder
3 cups of low-sodium chicken stock
4 whole cloves
2 bay leaves
2 cups of sunflower oil
½ cup raisins
½ cup of fresh parsley for garnishing
For Lemon Yogurt Sauce
1½ cup of whole-milk yogurt
1 lemon juice with zest
Pinch of cayenne powder
2 tbsp. of fresh chopped parsley
Salt to taste
Preparation Method
To Make Lemon Yogurt Sauce
First, make yogurt sauce and add whole-milk yogurt, parsley, cayenne powder, lemon zest, and lemon juice in a bowl; season with salt, mix all the ingredients and keep it aside.
To Make Chicken
To make chicken, preheat oven to 375 degrees first; now season chicken pieces with salt and black pepper.
Heat olive oil in a large pan and add chicken in batches, fry the pieces until crisp and golden from both sides, approximately 15 to 20 minutes per side.
Remove fried chicken from pan and set aside.
Now place chicken on a parchment-lined baking tray; reduce oven temperature to 275 and bake the chicken for 20 minutes.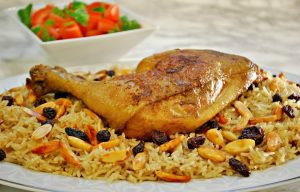 Delicious Kabsa
To Prepare Rice
In the same frying pan, stir all vegetables like onion, garlic, ginger, carrots.
Add cumin, coriander, and turmeric powder in vegetables, cook and stir vegetables occasionally until starting to soften about 3 to 5 minutes.
Add tomato puree, chopped tomatoes, orange zest, and juice, chicken stock, cloves, cinnamon, and bay leaves in vegetables and let them simmer.
Add soaked rice into the gravy mixture of vegetables and season with salt and black pepper.
Stir rice meanwhile and cook at low-medium heat until rice becomes tender.
Switch off the heat and fluff the rice to combine with a fork.
Now heat the sunflower oil in a small pan and add almonds, fry until golden brown about 3 to 4 minutes, and remove from oil with a slotted spoon to drain oil completely.
Add raisins in the same pan and fry them too until golden brown and remove from oil with a slotted spoon.
Assembling Process
To serve chicken kabsa, first, spoon out rice on a serving dish followed by chicken on top.
Sprinkle fried almonds, raisins, and garnish with fresh parsley leaves.
The delicious Chicken Kabsa with lemon yogurt sauce is ready to serve. Enjoy!