Hummus is extremely delicious, creamy and rich Arabic dips that mostly serve with warm bread. It is one of the most popular cuisines in Arab countries particularly in Turkey, Dubai, Saudi Arabia, Morocco, and Israel. However, it is equally celebrated in European countries and has huge appreciation due to the creamy and velvety texture. Hummus can be made at home quickly with a very simple method and common ingredients such as chickpeas, sesame seeds, lemon juice, and olive oil. If you are health conscious, Hummus is the ultimate option full of nutrients. Moreover, a homemade Hummus recipe will save your money too as compared with processed one. Consequently, you will love to have Hummus in each way as Middle Eastern dip or spread.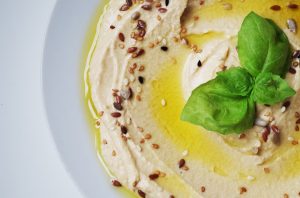 image source: https://pixabay.com
Ingredients
3 tbsp. of fresh lemon juice
3 tsp. of sesame seeds
300-gram of chickpeas
2 chopped garlic cloves
Salt to taste
3 tbsp. of Tahini sauce
3 tbsp. of Greek yogurt
½ cup of extra virgin olive oil
1 tsp. of Cayenne powder
1 tsp. of olive oil for garnishing
1 tsp. of Ground Paprika for garnishing
Parsley finely chopped for garnishing
Preparation Method
First, soak chickpeas overnight in enough water.
Next day, drain the liquid and place chickpeas in a deep saucepan with water and pinch of salt.
Turn the heat low and simmer chickpeas for about 90 minutes or until tender.
Once boiled, strain chickpeas and reserve the drained water.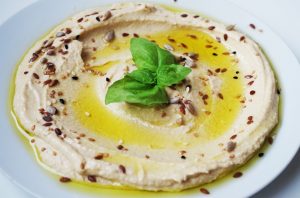 image source: https://pixabay.com
Now add chickpeas in a food processor along with squeezed lemon juice, tahini sauce, chopped garlic, cayenne pepper, Greek yogurt, salt, sesame seeds, and olive.
Grind all ingredients in processor and add reserve water if paste would become dry or hard in texture.
Grind the mixture until it becomes fluffy and creamy.
Now spoon out Hummus dip onto a serving plate and drizzle a dash of olive oil followed by smoked paprika on top.
Sprinkle parsley leaves for garnishing.
The smooth, soft and feathery Hummus spread is ready to serve; enjoy with warm pita bread.