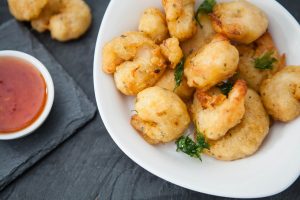 www.pixabay.com
The "saucy prawn starter" is a palate satisfying quick bite! You can quickly make them for parties, festivities, or delicious snacking. It takes hardly 10-15 minutes to make a batch of this crispy prawn starter with creamy sauce. The recipe is pretty easy, with a little effort needed to prep the prawns.
Ingredients
15-16 prawns (de-skinned, de-veined)
2 cups of Popcorn
200ml Ice cold Water
100 grams of Superfine White Flour
1 teaspoon of Baking Powder
½ teaspoon of Salt (if needed)
200 grams of Mayonnaise
4 Tablespoons of Hot Chili Sauce
2 tablespoons of Lemon Juice
8-10 Bake Rolls
Olive oil (for frying)
White Sesame Seeds (for garnishing)
Pickled White Cabbage (for serving)
Directions
Prepare the Prawns
Start by washing the prawns and peeling off the skin.
If you don't like the head, you may remove it.
There is a thin vein running through the center of the prawn, pull that out and discard.
Now, place the prawn side-ways on the chopping broad, press gently on the top with your left palm, and make a slit half-way through the back of the prawn. Open the two halves sideways and that is how you butterfly prawns.
Cooking the Saucy Prawn Starter
Step 1: In a large bowl, add the superfine flour and mix it with baking powder, and salt. Now, put the salted popcorn into the food processor and blend for a few seconds to get a coarse crumb texture.
Step 2: Next, add the popcorn crumbs to the flour mixture and mix well.
Step 3: Pour the ice-cold water (200 ml) into the dry flour mixture. Whisk to get a thick batter-like consistency.
Step 4: Now, transfer all the prepped prawns into the batter. Toss the prawns to coat them evenly.
Step 5: Take a deep-fryer or frying pan and fill half of it with olive oil. Heat the oil till it reaches 180°C.
Step 6: Drop 4-5 prawns cautiously into the hot oil. Deep-fry for 3-4 minutes till the prawns turn golden. Take them out in a tissue paper and drain the excess oil.
Step 7: Repeat Step 7 with the remaining prawns. Step 8: In another bowl, squeeze out the mayonnaise. Add the hot chili sauce and lemon juice. Mix well. Finally, assemble the prawn starter. Spread out the crispy bake rolls in a serving plate. Place the crunchy fried prawns on the rolls. Then, top it with the hot zingy mayo sauce. Finish off with a light sprinkling of white sesame seeds.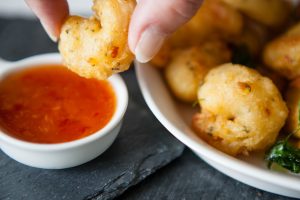 image source: www.pixabay.com
Serve this delectable saucy prawn starter with some pickled white cabbage on the side.
Tips
You may also serve the prawn starter in soft French bread rolls instead of the baked rolls. Simply make a hollow top in the French rolls, stuff the crispy prawns in the hole, and top with sauce & sesame. Try some saucy prawn starter to experience the fabulous crispy creamy combo!