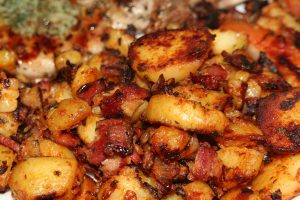 image source: www.pixabay.com
The "Pumpkin with Poppy Seeds" is a delicious must-try delicacy! You can have it along with rice noodles, or fill it in tortillas, or enjoy it with steamed rice. The ripe red pumpkin chunks turn into soft melt-in-the-mouth sweet veggie in this 'Pumpkin with Poppy seeds' recipe. Coated with the rich poppy seeds paste and tampered with the aromatic fennel seeds and curry leaves, this savory delicacy is quite delectable. The grated coconut garnish uplifts the dish with a flavorsome nuttiness that entices the palate leaving you craving for more.
Ingredients for Pumpkin with Poppy Seeds
2 tablespoons coconut oil
7-8 curry leaves
2 teaspoons fennel seeds
17-ounces fresh red pumpkin (peeled & cut in cubes)
¼ teaspoon turmeric powder
Salt (as per taste)
½ teaspoon sugar
For Poppy Seeds Paste
4 tablespoons poppy seeds
2 tablespoons mustard seeds
3-4 green chilies (chopped)
3-4 teaspoons chopped garlic (or 4-5 garlic cloves)
½ cup of water
To serve
½ cup of coconut meat (grated)
Instructions for Pumpkin with Poppy Seeds
Prepare the Fresh Pumpkin & Poppy Seeds Paste
Wash the pumpkin and cut in half. Scoop out & discard the gut & seeds. Then, peel and cut the pumpkin in 2-inches thick cubes.
In a blender, add the poppy seeds along with mustard seeds, green chilies, chopped garlic, and water. Blend into a smooth semi-thick paste.
Cook the Pumpkin with Poppy Seeds
Step 1: Place a wide non-stick skillet on the stove over medium-high heat and pour the coconut oil.
Step 2: Add the curry leaves and sprinkle the fennel seeds. Sauté for 30 seconds!
Step 3: Add the pumpkin cubes and reduce the heat to medium. Shower the turmeric powder on top. Mix and cook for 5-6 minutes until they are almost done. Keep stirring frequently.
Step 4: Add the poppy seeds paste, sprinkle the sugar and season with salt. Continue to cook the pumpkin for another 3-4 minutes over medium heat. Stir continuously.
Step 5: Once you notice the oil being released on the edges, turn off the stove. Transfer the tender "Pumpkin with Poppy Seeds" to a bowl and serve topped with freshly grated coconut.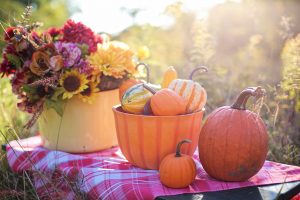 image source: www.pixabay.com
Tips
You can also add sweet potatoes (peeled and cut in cubes) or any other potatoes to this recipe.
You can choose to relish it as a dry or semi-thick gravy as per taste preference.
For milder heat, use 1 or half of green chili. In case you enjoy the smocked paprika flavor, you can substitute it for the green chilies.
This 'Pumpkin with Poppy Seeds' gives you a new way to relish pumpkins beside the usual oven-roasted style. Try this innovative recipe with steamed brown rice and onion fritters for a yummy main course vegetarian meal!