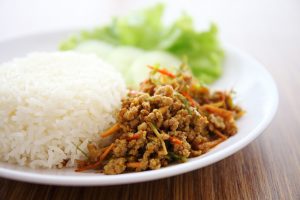 image source: www.pixabay.com
This "Banana Blossom Curry" is an authentic recipe quite frequently made at Indian households. The curry is popularly served with steaming white rice and lentil soup/dal for lunch or dinner. Banana Blossom contains several vitamins & minerals. It has great anti-oxidant properties, helps ward off anxiety, cure infections, and improves lactation in nursing mothers. Infused with the aroma and flavors of multiple spices, incredible textures, and nuttiness, the savory Banana Blossom Curry turns out to be a tasty main course dish.
Ingredients
for Banana Blossom Curry
300-350 grams of canned Banana Blossom (rinsed & chopped)
1½ tablespoon coconut oil
For Tampering
2 bay leaves
1 dried red chili,
2 cloves, 2 green cardamom
1 cinnamon stick
1-2 Potatoes (90-100 grams) (peeled & cubed)
2 tablespoons young coconut meat (grated)
For spice mixture
3 inches fresh ginger (peeled and blended to paste)
1 teaspoon cumin powder
½ teaspoon red chili powder
½ teaspoon turmeric powder
1 teaspoon salt (or as per taste)
1 tablespoon Sugar
2-3 fresh green chilies (slit)
2 tablespoons peanuts
2 teaspoons clarified butter (ghee)
1 teaspoon garam masala powder
Water
Directions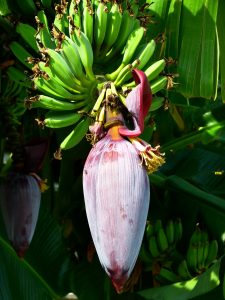 image source: www.pixabay.com
Prep the Banana Blossom; Potatoes; Coconut; Chilies & Ginger
Open the can, drain the brine solution, and rinse the banana blossom thoroughly under running tap water. Next, chop them finely.
Wash and peel the potatoes. Then, cut them in 2cms thick cubes.
Rinse 4-5 coconut meat strips and grate them.
Wash the green chilies and slit them halfway through.
Wash the ginger, remove its skin, and grind into a paste in the blender. For a smooth paste add a teaspoon of water in the blender.
To cook the Banana Blossom Curry
Place a deep wok on the stove over medium-high flame. Drizzle the coconut oil and let it heat.
Add the tampering ingredients one-by-one in the hot oil (bay leaves, dried red chili, clove, cardamom, & cinnamon stick).
Now, add the potato cubes and fry for 3-4 minutes until slightly golden. Stir frequently.
Add the grated coconut into the wok and cook for 30-40 seconds.
In a small bowl, make a spice paste by mixing ginger paste, cumin, red chili, & turmeric powder along with ¼ cup of water.
Add the spice paste to the wok, sprinkle the salt & sugar. Also, add the slit green chilies. Stir for 1-2 minutes and add ¼ cup of water. Simmer for 5 minutes.
Add the peanuts and cook for a minute.
Transfer the chopped banana blossoms to the wok. Stir and mix the ingredients for a minute. Then cover the wok, reduce the heat to low, and cook for 6 minutes. Uncover, pour ½ cup of water, & cover again. Cook for 6 more minutes until the banana blossoms become tender.
Finish off by adding the clarified butter and garam masala powder. Mix for 30 seconds, turn off the stove and serve.
Prepare this Banana Blossom Curry at home to devour a uniquely delicious and healthy vegetarian curry.