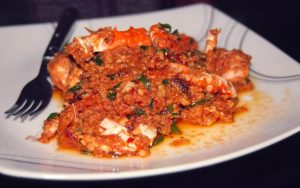 image source: www.pixabay.com
This "Creamy Crab Gravy" is a scrumptious dish that can be prepared easily at home! The luscious coconut flavored spicy crab dish is a befitting gravy to prepare over the weekend, invite some friends, and cherish a good lunch/dinner meal. The crab gravy can be made within 30 minutes (10-15 minutes preparing; 15 minutes cooking). The ingredient portioning given below is enough to serve 2 people. You can double the quantity to serve a family of 4 and so on.
Ingredients
for Creamy Crab Gravy
1 fresh ginger (about 3-inches)
2 tablespoons fried onions
1/4 teaspoon fenugreek seeds (optional)
1½ teaspoons coriander powder
½ teaspoon cumin powder
½tablespoon turmeric powder
4-5 green cardamom pods (powdered/crushed)
½ tablespoon black pepper sauce
2 teaspoons chili garlic paste
1 teaspoon coconut oil
½ packet of coconut milk (7-8 ounces)
1 small onion (sliced)
2 tablespoons coconut meat (grated)
1 fresh tamarind (made to paste)
1½ cans of crab meat (225-230 grams)
Salt (as per taste)
2-3 tablespoons fresh coriander leaves (chopped roughly)
Water
Directions to prepare & cook the Creamy Crab Gravy
Prepare the crab meat; cardamom pods, ginger, coconut meat, onion & tamarind
Open the can of crab meat, drain the liquid, transfer to a mesh strainer, and rinse under cool running water for 1 minute.
Place the cardamom pods in a mortar and crush them. Discard the green skin and crush the tiny seeds.
Next, wash the ginger and peel it.
Grate the young coconut meat and keep aside.
Wash & peel the onion. Cut it in half and then slice it thinly.
Remove the tough tamarind skin and soak 3-4 tamarind pods in a small bowl of filtered water for 10-15 minutes. Discard the seeds and extract ½ tablespoon of pulp using your hands. Strain the pulp.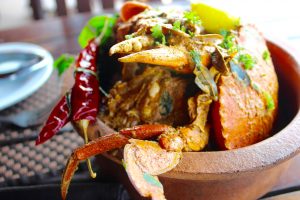 image source: www.pixabay.com
Cook the Creamy Crab Gravy
Step 1: In the blender, add the ginger, fried onions, and fenugreek seeds with 1-2 teaspoons of water. Blend for 20-30 seconds to make a paste. Transfer the ginger-onion paste to a bowl.
Step 2: Now, in the fresh-made ginger-onion paste, add coriander powder, cumin powder, turmeric powder, crushed cardamom, black pepper sauce, chili-garlic paste, & coconut oil. Mix well to get a smooth spice mixture. Keep aside.
Step 3: Place a deep pot on the stove over medium-high heat. Fill the pot with coconut milk. Wait for the milk to start simmering. Then, add the onion slices and coconut gratings. Stir once and cook for 3 minutes.
Step 4: Now, add the spice mixture and stir gently to mix it with the coconut milk. Next, drop the tamarind pulp and mix it again.
Step 5: Lastly, transfer the crab meat and cook for 3-4 minutes. Sprinkle the freshly chopped coriander leaves. Turn off the stove, and serve warm. Your creamy crab gravy is ready! Devour it with coconut rice, rice noodles, or bread slices.