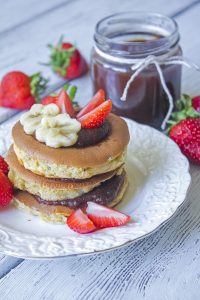 image source: www.pixabay.com
Relish the "Gingerbread vegan pancakes drizzled with date syrup" for a hearty breakfast! This soy milk infused fluffy pancakes taste delicious with the ginger powder, aromatic cardamom & cinnamon spices. The rich date syrup elevates the flavors to an all-new level. You can serve these gingerbread vegan pancakes in multiple ways. Add some honey along with date syrup for extra glossy sweetness. Garnish with fresh fruits, toasted dry fruits or nuts for a nutty texture.
Health Benefits
Soy milk is protein-packed, calcium-rich, and low in calorie content. Moreover, it also contains Vitamin A, B-12 & D. Dates, on the other hand, are loaded with nutrition, antioxidants, & fiber. They also great for the brain and help reduce blood pressure & sugar levels. These gingerbread vegan pancakes are a healthy breakfast recipe as it contains no artificial sweetener and gets cooked in minimal oil.
Ingredients
1 cup of semi-white flour
1/3 teaspoon of cardamom powder
½ teaspoon of ginger powder
1 teaspoon of cinnamon powder
1½ teaspoons of baking powder
A pinch of salt (or as per taste)
2/3 cup of Soy milk
2-3 tablespoons of Date syrup (1 tablespoon for batter & rest for garnishing)
Olive oil (as needed for frying)
Instructions for making the Gingerbread Vegan Pancakes
Start by adding the dry ingredients in a bowl- flour, cardamom powder, ginger powder, cinnamon powder, baking powder, & salt. Mix well.
Next, add the liquid ingredients in a cup- soy milk & 1 tablespoon of date syrup. Mix for a minute.
Now, pour the liquid mixture into the dry mix and whisk for 2-3 minutes to combine into a smooth pancake batter.
Brush some olive oil in a non-stick pan. Allow it to heat on low flame.
Put a small ladle of the smooth pancake batter in the middle of the greased pan. Allow it to cook for a minute or two.
Flip the pancake when the edges are set and the center starts to bubble. Fry for a few minutes to get the perfect brownish color.
Transfer to a plate, and repeat the frying process for the rest of the pancake batter.
Finally, stack all the gorgeously done pancakes in a serving dish. Drizzle a generous amount of the date syrup and serve!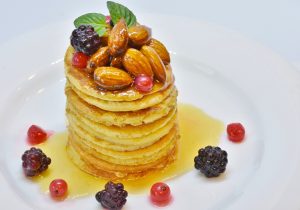 image source: www.pixabay.com
Tips
For the flour, you may opt for all-purpose flour, coconut flour, as well as wheat flour.
Two good vegan substitutes for soy milk are coconut and almond milk.
These gingerbread vegan pancakes taste yummy with the rich date syrup. Yet, you may use honey or molasses instead of date syrup.
This pancake recipe is super easy and you can make it within minutes. The assortment of ingredients makes all the difference and results in mouthwatering flavors & texture. These Gingerbread vegan pancakes make the mood and palate so happy that you & your family would want to have them again and again!