This spaghetti with sardines recipe is a unique & flavorful take on the boiled spaghetti. Besides the tender sardines, this spaghetti seals rich saffron flavor, nuttiness of pine nuts, garlic taste, aromatic fennel seeds, sweet raisins, zingy lemon essence, tangy tomato, and white wine.
Ingredients
for Spaghetti with Sardines
210 grams of Spaghetti
A few Saffron strands (optional)
¼ cup of White Wine
4-5 Tablespoons of Olive Oil
¼ cup of Breadcrumbs
1 tablespoon of Pine Nuts
1 teaspoon of Fennel Seeds
2 teaspoons of Garlic Granules
1½ Tablespoon of Tomato Puree
7-9 Sardines in Olive Oil
1 Tablespoon of Raisins
2½ Tablespoons of Lemon Juice
1 teaspoon of White Pepper Powder
Salt (as per taste)
1 tablespoon of Dried Parsley (for garnishing)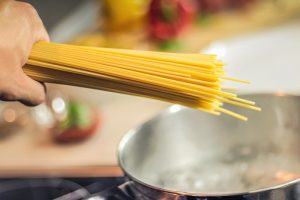 image source: www.pixabay.com
Instructions
Boil the Spaghetti
Fill ¾ of a pot with water and season with salt.
Place the pot on the stove over high heat and bring the water to a boil.
Drop the Spaghetti carefully on the bubbling water and let it cook for a few minutes.
When the spaghetti seems semi-soft turn off the stove. (Leave the spaghetti in the pot along with the water)
Prepare the Saffron, Breadcrumbs, & Pine Nuts For the Saffron:
Take 2 tablespoons of white wine in a bowl and soak the saffron strands in it. Let it sit at room temperature until nicely infused. For the Breadcrumbs:
Place a heavy-bottomed skillet on the stove at medium-high heat.
Pour a generous amount of olive oil and let it heat.
Add the breadcrumbs and fry by stirring continuously.
Once they turn golden, transfer to a plate and wipe clean the skillet with a kitchen towel. (Do not turn off the stove)
For the Pine nuts
Put the pine nuts in the hot skillet and toast them until golden. Remove in a bowl for later use.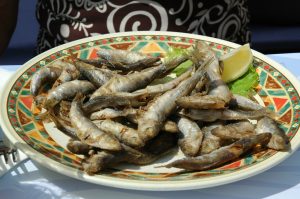 image source: www.pixabay.com
Steps to Cook the Spaghetti with Sardines
Step 1: Add a tablespoon of olive oil in the skillet. Put the fennel seeds and garlic granules into the oil and fry for 1 minute by stirring regularly.
Step 2: Now, pour the tomato puree and stir cook for 1 minute.
Step 3: Time to add the sardines and raisins into the tomato puree. Coat the fish with the tomato puree smoothly and cook for 2 minutes.
Step 4: Next, add in the lemon juice, saffron strands (along with the wine in the bowl), and the remaining white wine. Adjust the heat to low & simmer the ingredients for 5 minutes.
Step 5: Add some of the spaghetti water into the skillet. Drain the spaghetti and add it. Stir and mix with the sauce gently.
Step 6: Sprinkle the toasted pine nuts over the spaghetti and season with salt & pepper. Give it a toss. Your deliciously inviting spaghetti with sardines is ready! Serve it topped with crispy fried breadcrumbs and dried parsley. Make this spaghetti with sardines recipe over the weekend for a lavish gourmet dinner.