Pork Schnitzel, with top-notch lemon garlic butter, is a pan-seared recipe that can adore your dinner menu, and replenish your abdomens with flavor. Surprisingly, this delicious recipe can be made within 30 minutes by means of homemade ingredients anytime, and you can enjoy it with your friends and family. Schnitzel is the name of a thin portion of white meat which ought to pound for fast cooking. French People called this thin meat piece as Escalope, and cook it with the same method by using extra virgin olive oil. It's finishing and garnishing with butter, lemon, and garlic bring it to another level of fantasy which can be converted into reality. However, if you would serve it with salads or stuffed potatoes, I assure you, you will feel in heavens, and never forget the taste. But for now, let's start our simple, delicious yet gratifying recipe and note ingredients.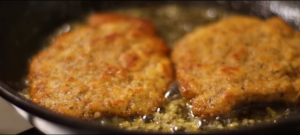 Sizzling Butter in Pork Schnitzel
Ingredients
¼ cup of white flour
1 tsp. Pink salt
½ tsp. of coarsely ground black pepper
2 whole eggs
1 cup of breadcrumbs
2 pork cutlets of loin part
¼ cup of extra virgin olive oil
2 tbsp of salted butter
1 handful of fresh parsley leaves
1 lemon juice
1 tsp. of dried thyme
1 garlic clove minced
Preparation Instructions
Remove the silver skin from each pork loin cutlet carefully.
Flatten each cutlet by placing it in between a cling wrap, and pound with a meat mallet until it becomes double its size.
Now seasons with salt and black pepper all over, and set aside.
Next, take 3 wide plates, and add flour in one, breadcrumbs in 2nd, and beat eggs in the last one.
Add dried thyme in bread crumbs and mix well but use eggs wash and flour as it as.
Now, coat flattened cutlets, first in flour, then in egg wash, and lastly in breadcrumbs.
Heat olive oil in a big pan to cover the bottom, and place Schnitzels in hot oil gently, cook each side on low to medium heat until turns to a light golden brown.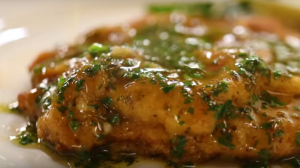 Schnitzel with Butter Garlic Sauce
Once cooked from both sides, add butter and garlic in the pan, mix well in oil by rotating the pan for one minute.
Now remove schnitzels from heat and transfer to warm serving plates.
In the same pan, add chopped parsley and lemon juice, mix for a while and immediately pour over pork schnitzels.
Garnish with a lemon slice and a parsley leaves.
The delicious and awe-inspiring Pork Schnitzels with lemon butter garlic sauce is ready to eat. Enjoy!