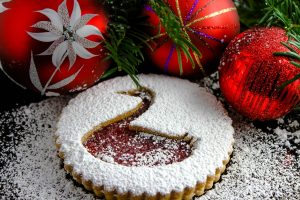 image source: www.pixabay.com
Almond Cookies with Fig Jam is a delicious eggless recipe for festive vibes. Serve these homemade cookies to your friends, family, and guests for a tasty treat. You can also pack them in cute glass jars and send them to your loved ones for Christmas.
Ingredients
for the Almond Cookies with Fig Jam
1½ cups of soft wheat flour
½ cup of almond kernels (for the almond meal)
Half a cup of sesame seeds
½ teaspoon of Himalayan crystal salt
⅓ cup of tender virgin olive oil
½ cup of honey
1 teaspoon of vanilla sugar
Things needed for The Fig Jam Filling:
1½ cup of fig jam
2½ teaspoons of sesame seeds (grounded)
2 teaspoons of cinnamon powder
For Serving the Almond Cookies with Fig Jam
Instructions
Prepare the Fig Jam Filling Blend the sesame seeds for a minute or two to get a powdered texture. Transfer to a bowl. Add the cinnamon powder and fig jam. Mix nicely. Ensure the consistency is soft yet thick enough to make logs.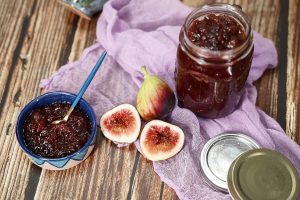 image source: www.pixabay.com
Make the Almond Cookies with Fig Jam
Step 1: First, line the baking tray with a silicone mat. Set the oven for preheating at 350°F. (175°C)
Step 2: Make the almond meal by adding the almond kernels in a blender. Blend for 15-20 seconds. Give it a shake every 5 seconds.
Step 3: Transfer the almond meal to a large bowl. Add the wheat flour, sesame seeds, and flour. Mix well.
Step 4: In another bowl, add the oil, honey, and vanilla sugar. Mix for a few minutes until the vanilla sugar blends in.
Step 5: Now, pour the sweetened liquid on the dry dough mixture. Gently mix and knead for a few minutes to make the dough.
Step 6: Divide the dough into 3 balls. Dust the rolling space with flour and roll them out. Give them rectangular shapes with your hands. (12x4 inches size approximately).
Step 7: Now, make 3 logs with the fig jam mixture. Put it in the center of each rolled-out dough ball. Seal the filling by bringing both ends of the dough together. Next, slight it into 7-8 raw cookies.
Step 8: Place the raw cookies into the lined baking tray. Press each raw cookie slightly with the rolling pin to flatten it. Put it in the oven and bake for 15-20 minutes. Let the "Almond Cookies with Fig Jam" cool down! Serve them after dusting with icing sugar.
Tips
To store the homemade almond meal, keep it unrefrigerated in an air-tight container. It will last for up to a month.
You can substitute tender virgin olive oil with coconut oil. When using coconut oil, you need to melt it in a pan (at low heat) for 5-10 seconds.
This recipe using vanilla sugar as it has a longer shelf life than vanilla beans. You may use vanilla extract if you desire.
Prepare these easy "Almond Cookies with Fig Jam" at home and make this year's Christmas extra special.