Cockta Original 1953
The story of Cockta is very interesting. At the beginning of the 1950s, Emerik Zelinka, the father of the Cockta, created a refreshing drink from the best natural ingredients at Slovenijavino. It also contains rose hips, pleasantly acidic vitamin C, various herbs, pure spring water and caramelized sugar. The first carbonated refreshment drink is produced in Yugoslavia. The name "Cockta" derives Zelinka from "Cocktail", which means a mixture of different ingredients. On March 8, 1953, Cockta is presented for the first time in Planica. The visitors are accompanied at every step by the advertising poster with the sympathetic, cockta drinking girl. The poster was a work of the designer and painter Uroš Vagaja.
Cockta is presented to the public as a round four-liter bottle with brown, frothy liquid and represents the western lifestyle. Both the bottle and the bottle label were designed by the designer Sergej Pavlin.
In the same year, the first million-liter cockta is produced, filling a total of 4.5 million bottles.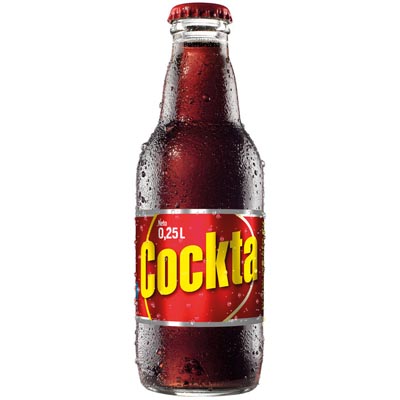 ---
In the first 14 years of its existence, Cockta is able to record annual sales growth of 25%. In 1967, the annual sales were already 80 million bottles. Cockta is one of the leading Slovenian (then Yugoslav) export products and is exported to the Netherlands for two years. At the end of the 1960s, the first foreign competition product came onto the market. The desire for Western products stops the demand for Cockta and the sales curve turns downwards. Cockta has settled in the Balkans and is very popular. It is preferred because it is caffeine-free and it consists of natural ingredients.
---
First Cockta commercial