Originally from Italy, Pizza is the most popular food across the world and enjoyed by all the walks of life in all regions. Use of tomato, and cheese as a topping has always been considered an innovation in the history of pizza. Nevertheless, at present, pizza has innumerable variations of toppings and flavors that profoundly cherished and loved by all pizza lovers. Either dinnertimes, parties, get-togethers or it just you, pizza would be available in your dining menu. Although pizza has countless varieties, however today we are going to present one of the most popular types of pizza which is called Pepperoni Pizza. Blended with cheese and tomato sauce, Pepperoni Pizza provides a splash of red golden brown pizza that looks awesome and tastes palatable. So, let's make the restaurant-style cheesy pizza at home and note the ingredients.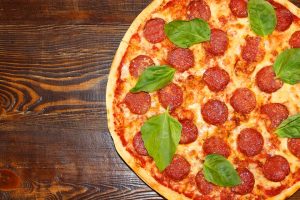 image source: https://pixabay.com
Ingredients
For the Pizza crust
1 tsp. sugar
¾-cup warm water
1 tsp. dry yeast
1 tsp. salt
3 tbsp. olive oil
2 cups plain flour
For Pizza sauce:
170-gram tomato paste
3/4-cup water
1 tsp. onion powder
1 tsp. dried basil
1/2 tsp. garlic powder
1/2 tsp. dried oregano
1/2 tsp. salt
1 tbsp. grated Parmesan cheese
For the Pizza topping:
Pizza sauce
2 cups mozzarella cheese
100-gram pepperoni
Optional Toppings
Dried Oregano
Black olives
Green olives
Chili flakes
Preparation Instructions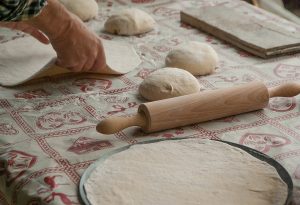 image source: https://pixabay.com
To make Pizza Crust:
Do first things first, take a large bowl and, combine sugar and warm water. Now add yeast over the top of the water and let it alive for about 10 minutes. In another bowl, add salt, olive oil, and flour and mix them well. Next, add yeast water in the flour and mix well with hands. It's time to knead dough that would be poky and smooth, so push the flour forward and rotate it continuously on dusty kitchen wooden counter. Knead the flour for about 10 minutes while using minimal flour for dusting to prevent sticking. After kneading, put the dough into an oiled bowl and tumble more oil to coat the dough, cover with a damp towel and let it rise for about an hour or until double in size.
To make Pizza Sauce: In a small saucepan, combine all ingredients of pizza sauce except the cheese and stir constantly with the help of a whisker. Cook the sauce on low-medium heat until it gets bubbles. Now remove from heat and add one tbsp. Parmesan cheese and mix it into the sauce until melted. Set aside the sauce to cool down completely before using for pizza assembling.
Assembling process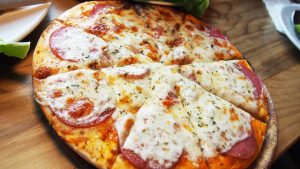 image source: https://pixabay.com
Preheat the oven to 500 degrees before baking the pizza. Use a 16-inch pizza pan, and dust the pan lightly with semolina to avoid sticking. Turn the dough on the pizza pan without punching down and start poking it from the center by using your fingertips. Let the bubbles come in the dough to make an excellent pizza. Stretch the dough with your hands to the edges of the pizza pan, leaving a slight edge around the outside of the pizza crust. Now, spread pizza sauce on the top of the crust to approximately 3/4 of the ends. Next, cover pizza sauce with lots of fresh mozzarella cheese. Now start placing pepperoni on the crust in many rows but keep them relatively close as they do shrink up when baked. Go round and round and continue filling to the center, kind of overlapping the pepperoni slices on the crust. Coat the pepperoni layer with more toppings if you like such as black or green olives, red chili flakes, and dried oregano but these are optional. Bake the pizza in a preheated oven for 7 to 10 minutes or until golden brown and toppings are cooked properly. The restaurant-style lush golden brown pizza with pepperoni is ready to serve, Slice into 8 pieces and enjoy it right away!