Galangal is a perennial root plant that belongs to the ginger (Zingiberaceae) family. It looks like ginger and tastes like turmeric with a little tang to it. And has been used as a herbal spice in Thai cuisine over the years. Its natural habitats are Thailand and Vietnam. Today, it is been planted all over Southeast Asia and other parts of the world who are beginning to unlock its hidden potentials. Galangal can be identified by different names such as small galangal, Chinese ginger, Siamese ginger and ginger root.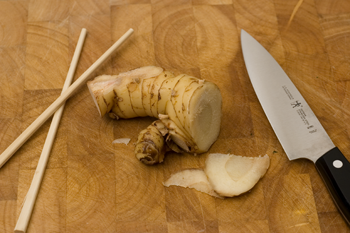 image source: Wikipedia
It has been discovered that galangal root has even more benefits beyond culinary. It is said to contain certain components that can be used to fight cancer, boost brain performance and treat inflammation. The active compounds present in galangal are gingerol, cinnamate, flavonoids, resins, diarylheptanoids, starch, galangal, and tannins. In Southeast Asia, galangal root is being used as an antidote for pathogenic bacteria like staphylococcus and hemolytic streptococcus. Just like ginger, galangal can be used as an alternative treatment for respiratory tract infections like cough and bronchitis. Its other health benefits are the treatment of gastrointestinal problems.
How to Use Galangal
The root can either be used in raw form, dried form or powdered form. Fresh galangal roots can last a few weeks when stored in the refrigerator. The dried roots and powdered form lasts longer, so long as they are properly kept. Galangal powder is made by grinding dried galangal roots. Galangal can be used in fries, soups, salads, and tea.
Nutritional Facts
A 100g serving of galangal contains about 14g carbs, 73 calories, 3g fiber, 2g fat, 2g protein, and 6g vitamin C.
Health Benefits
Galangal possesses numerous culinary and health benefits. Some researchers have asserted that it can help in destroying cancerous cells. Other benefits of galangal are anti-inflammatory, anti-fungal, antiviral, pro-fertility, antibacterial, and pain reliever. Since galangal can be slightly substituted for ginger as they are closely related. It's only natural that they possess similar health benefits. It contains high levels of organic compounds such as antioxidants, flavonoids, essential oils, and tannins.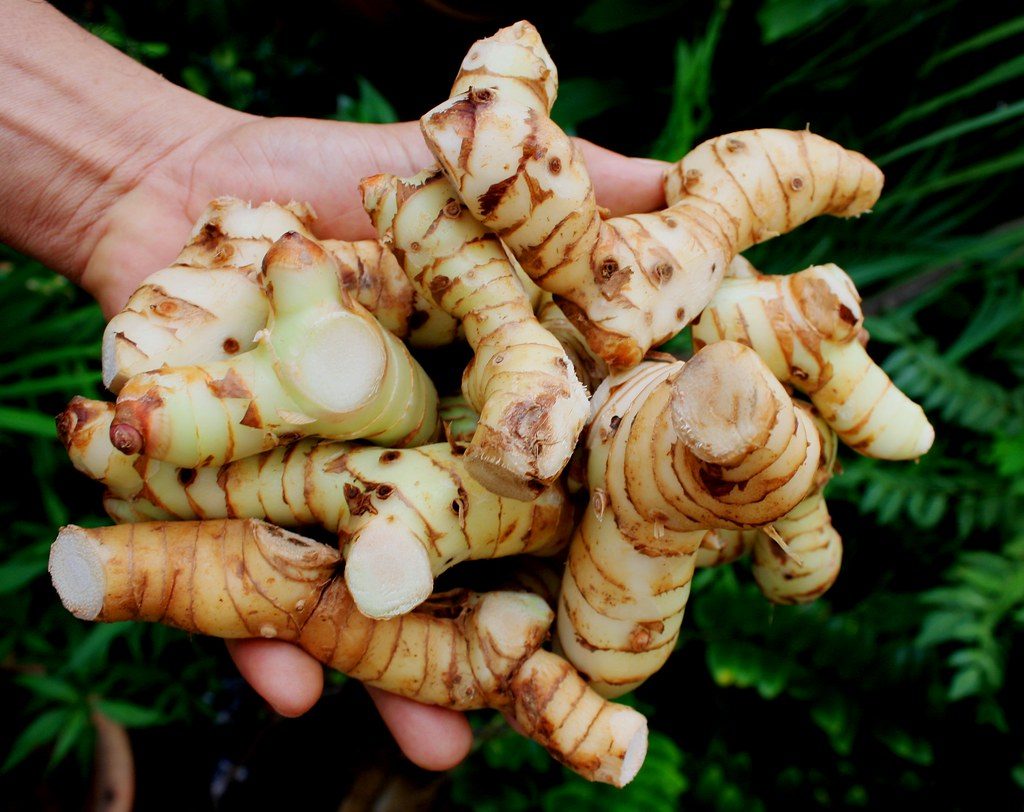 image source: Wikipedia
Galangal Treatment Alternative
Galangal can be used as an alternative treatment for different ailments due to the presence of its active organic agents.
It helps prevent morning sickness, motion sickness and nausea
Reduces the risks of chronic pain, arthritis, muscle sprains, and rheumatism
Increases libido and sperm count
It eases digestive and gastrointestinal problems
Lowers cholesterol levels
It lowers blood sugar levels
Helps maintain good heart health by boosting circulation and lowering blood pressure
Galangal's essential oils are also packed with active agents that help in relaxing stiff muscles caused by stress or fatigue.
Side Effects
For the greater part, galangal root is highly recommended as a natural remedy in treating diseases. However, excess consumption of it can have a side effect on ulcer patients. This is because it contains strong compounds that stir up gastric acid secretion. This miraculous herb is not recommended for pregnant women because of its active components. Excess intake of galangal can lead to stomach upsets.