Summer is all about mangoes all over the world and no one can enjoy this season without the king of all fruits. So, today we will prepare another exciting, healthy, sweet and cheesy recipe for mango lovers, named Mango Cheesecake. For all those vegetarians, who mostly don't eat cheesecake because of the use of gelatin in it, we have good news. This cheesecake does not contain any kind of gelatin. Instead, we will use china grass in this cheesecake recipe to get the same texture and taste, that a cheesecake should have without being unhealthy. Moreover, our mango cheesecake recipe does not need an oven and we will make it without any kind of baking. So, if you don't have an oven and still want to make cheesecake, then follow this recipe by heart and enjoy the most eye-catching, colorful and delicious mango cheesecake.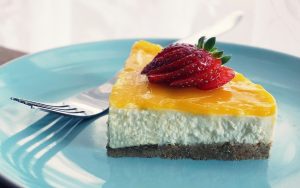 image source: https://pixabay.com
Ingredients
Cake Crust:
160-gram digestive biscuits
100-gram Salted butter
Cake Filling:
160 gram powdered sugar
800-gram greek yogurt
400-gram cottage cheese crushed
10-gram China grass
1 cup mango puree
1 tsp. vanilla extract
Mango Gloss:
1/2 cup mango pureed
1 tbsp. lemon juice
2 tbsp. water
2 tbsp. granule sugar
Preparation Directions
Making the Cake Crust:
First, put biscuits into a ziplock bag and crush them into a powdered form with the help of a rolling pin.
Transfer powdered biscuits into a bowl and add butter cubes.
With the help of pastry blender or your hands, rub the butter into the powdered biscuits until well combined.
Now take an 8-inch cake pan and pour the biscuit mixture into it, press the mixture to form an even base for cheesecake and then let it cool. Refrigerate for 30 minutes.
Making the Cake Filling:
For cake filling, first, break the china grass into small pieces and soak in 1 & 1/2 cup of hot water for 10 minutes.
Now in a blender, add greek yogurt, cottage cheese, and powdered sugar and blend until creamy and smooth.
Transfer this creamy mixture into a mixing bowl, add vanilla extract and whisk well.
In a saucepan, heat mango puree on medium flame but do not boil.
In another small pan, add china grass with its water and stir it on low heat for about 10 mins until it melts completely but makes sure to not allow it to boil.
Now pour the melted china grass in warm mango puree and stir well for a while.
Gradually, add mango mixture into yogurt mixture and whisk well until well combined.
Pour the mixture over the prepared cool cake crust and equalize it with a spatula, now chill it in the refrigerator for 1 hour before glossing.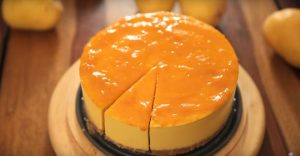 Finished Recipe
Ming the Mango Gloss:
In a saucepan, add mango puree, lemon juice, sugar, and water, cook on medium flame, when it starts boiling, lower the flame and cook for another 3 minutes and switch off the flame.
Allow the mango puree to come to room temperature and then pour it on the top of the cheesecake, spread evenly with the back of any spoon.
Set the mango gloss perfectly on your cheesecake. Put it into the refrigerator for at least 3 hours or overnight before slicing.
For more garnishing, you may use strawberries or blackberries.
The creamy, sweet, and yellowish mango cheesecake is ready to serve, Enjoy!