The Whole Roasted Chicken is the favorite food in all party and festive dining. The golden brown tender chicken with some veggies aroma raise your appetite and serve your guts wholeheartedly. This simple yet mouthwatering recipe does not need much effort and ingredients and cooks nicely with few guidelines. Chicken has been roasted in different ways but in a skillet will be your first time while proffering you equal delight as you always did in traditional ways. Lemon and rosemary will be used inside the chicken that improves its flavor and fragrance beyond your imagination. So let's start this marvelous and delicious recipe for your dining menu but first note the ingredients.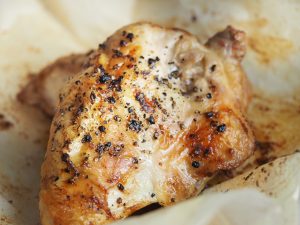 image source: https://pixabay.com
Ingredients
Whole chicken with the skin around 1800 gram
1 onion large size sliced
6 carrots medium size sliced
1 cup green Tuscan Kale
2 tbsp. olive oil for veggies
Salt to taste
Ground black pepper to taste
½ cup dry white wine
Olive oil for chicken coating as needed
8 sprigs of Rosemary
1 Lemon halved
Preparation Instructions
First, in a skillet pan, add onion, carrots, Tuscan kale, 2 tbsp. olive oil, salt, black pepper and mix well with hands, and keep aside.
Now in a big tray place pat dry whole chicken and season with salt and black pepper inside and outside thoroughly.
With the help of a brush, coat the whole chicken with olive oil generously.
Now in the central pocket of chicken, place rosemary sprigs and 1 lemon halved and tightly seal the legs of the chicken with a sewing thread.
Make sure tucking of chicken wings, as it will protect tips from burning in the oven.
Set the prepared chicken on the veggies pan and let it bake in the oven for 1 hour on 220 degrees.
After baking, remove the rosemary and lemon from the chicken pocket, cut it into pieces and transfer them to a serving dish with veggies.
Delicious tender and juicy whole roasted skillet chicken is ready to serve. Enjoy!