The mouth-watering crispy fried wontons served with sweet & hot chilli sauce is a popular Chinese non-vegetarian cuisine. The golden crunchy fried exterior, the yummy soft shrimp stuffing, and the flavourful dipping sauces make up for a perfect snack. Traditionally, these tasty wontons are also enjoyed steamed or in soups.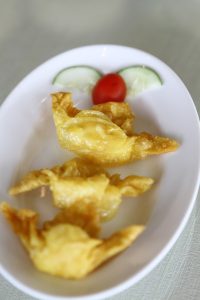 image source: www.pixabay.com
How to Cook
The crispy fried wontons need about 15-20 minutes to prepare and 5 minutes frying time. In less than 30 minutes, they can are ready to be devoured. The use of wonton skins and canned minced shrimps definitely saves time and minimizes the prepping effort. These cute, crisp and tasty wontons always bring happiness to kids as well as adults.
Ingredients
Fresh flat wonton skin (about 20 or more)
Minced shrimp (fresh or canned)
Ginger paste (2 teaspoons)
Garlic paste (2 teaspoons)
Spring onion (2 tablespoons, roughly chopped)
Mustard cabbage (2 tablespoons, finely shredded)
Oyster sauce (1 tablespoon)
1 egg (to seal the wontons)
Water ( ½ cup)
Oil (for frying)
Sweet chilli sauce (for serving)
Hot chilli sauce (for serving)
Instructions
To prepare the wonton stuffing
In a large bowl, take the minced shrimp, ginger paste, garlic paste, chopped spring onion, mustard cabbage, and oyster sauce. Mix well. Make sure the wonton stuffing is thick and has a sticky texture.
To fill and seal the wontons
Before starting to fill the wontons, break an egg in half a cup of water. Whisk well using a fork and keep aside. This will help in sealing the wontons.
Take 1 wonton skin on your palms. Place 1 spoonful of the shrimp stuffing in the centre of the wonton skin! Next, dip your finger in the egg. Wash and paint the edges of the wonton skin. Fold the wontons into a triangle shape. Seal the sides well ensuring there are no air bubbles. Repeat the process and prepare as many wontons as you want.
To fry the wontons
Fill a deep frying pan with 1 and a half-inch of oil. Heat the oil. Once the oil is ready, cautiously slide in the stuffed wontons from the side. You can slide in about 5-10 wontons at a time depending on the size of your pan. Fry the wontons for a few minutes over medium flame. Once they turn golden brown in colour, take them out. Place the wontons on a paper napkin to drain out the excess oil. Your fried tasty wontons are ready! Serve the crispy fried wontons with sweet chilli sauce and hot chilli sauce.
Important Notes
Wonton skins tend to dry out very quickly. Thus, after taking 1 wonton skin out, keep the rest covered with a lightly damp towel.
Mustard cabbage has a spicy flavour, therefore adding some lemon juice or vinegar can help balance the spiciness.
This crispy fried wontons recipe uses canned shrimp which contains salt, hence there is no need to season the stuffing separately. If you are using fresh shrimp, you may season with a pinch of salt and ground black pepper.
To store the wontons, place the stuffed and sealed wontons on a plate. See to it that the wontons are not placed on top of one another. Carefully put the plate full of wontons inside a freezer bag. Store in the freezer. Take them out to fry/steam as desired.