One of the best skills you can learn and deploy in your kitchen is how tow to prepare Wood ear mushroom. This delicious and medicinal fungus does not look like your regular brown or white mushrooms. Here is what you need to know about Wood ear mushroom and how to prepare it within 20 minutes.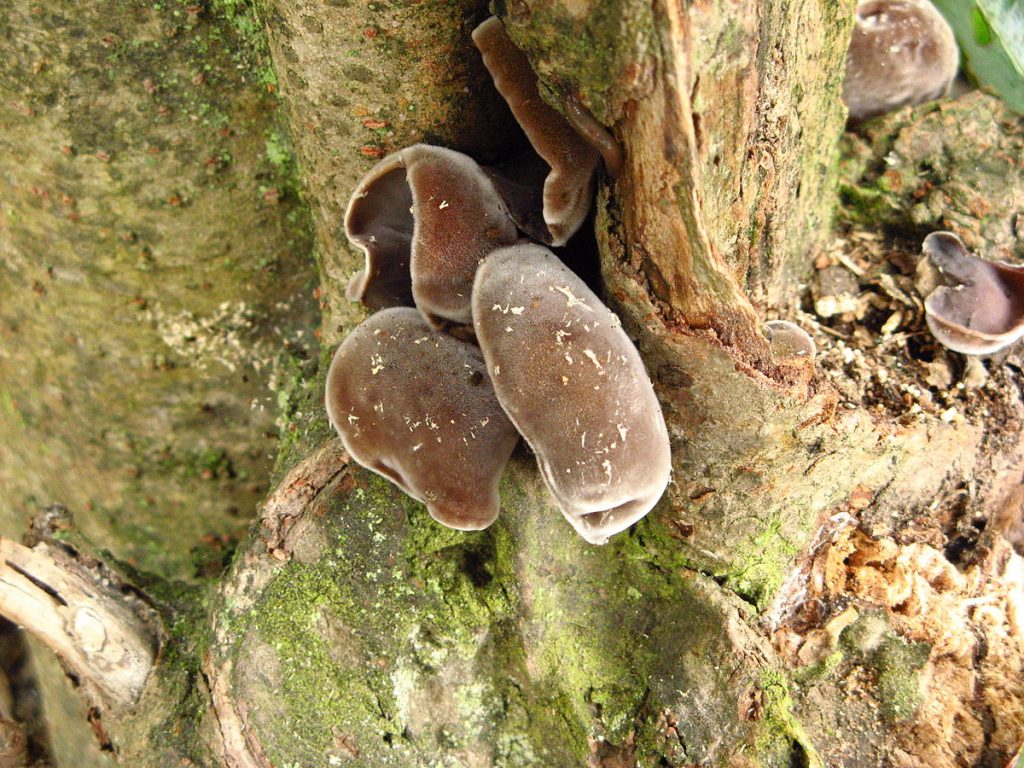 image source: Wikipedia
Shape and size
The size ranges from small to medium, with average diameter 3-8 centimeters. They are wavy and curved with a cup-like or ear-like shape. Their brown/dark-brown fruiting bodies have a gelatinous texture which can be wavy, smooth or with wrinkles and folds. When the Wood ear mushroom ages, it darkens. The spores of this medicinal fungus come in different colors ranging from white, cream to yellow. The mushrooms grow on both living and dead trees, wood, and cultivated bags of sawdust. It is native to Asia and is commonly grown in mountainous regions. You can find them in dried form in Asian markets along with their fresh counterparts. Wood ear mushrooms are also known as cloud mushrooms, black wood, ear, black fungus, Jew's Ear, and so on.
What they taste like
Cooked Wood ear mushrooms are crunchy, firm, and delicious with a musty, delicate flavor. The toothsome mouthfeel is smooth and tasty, especially in several Chinese recipes such as Chinese Salads, stir-fries, etc. You will also find them in hot and sour soup. Wood ear mushroom also has an earthy flavor and tend to pick up any flavor, just like tofu. This makes them ideal for adding texture to any meal or dish you are preparing or cooking.
Why are they called Wood ear mushrooms?
If you take a close look at Wood ear mushroom, you will observe that they look much like a pig's ear. These fungi got its name because they grow on the sides of decaying trees. The flat and broad shape of the mushroom makes the tree look like it has ears.
The need to rehydrate
No one can eat the dried form of the Wood ear mushroom because it is as hard as a bone. But they can be rehydrated by soaking in water for approximately 15-20 minutes. And when it puffs up as it soaks in water, the size of the mushroom triples.
image source: Wikipedia
Prepare the Wood ear mushroom in 20 minutes
After soaking, cleaning, and trimming the the mushroom, they are ready for use. Chop off the hard stem with your kitchen knife and slice the mushroom for your recipe. Make sure that it is the last to be added to stir fry recipes so that they can maintain their crunchy texture.
Health benefits
They lower cholesterol levels
They have high iron content
The mushroom inhibits the aggregation of platelets
They prevent inflammation and minimize the risk of cardiovascular events
They contain low amounts of sodium and fat, etc.
Conclusion
Dry Wood ear mushroom can be stored up to a year, especially in an airtight container or bag. So, the next time you visit any Asian country, ask for food that is garnished with the Wood ear mushroom!