Macaron Cookies are one of the most popular and challenging desserts of all times because of their delicacy and creaminess. People spent months making batches of macarons trying this recipe and then achieved full-proof techniques that help them to prepare macaron cookies successfully in the first attempt. A perfect macaron should be crushing inside and crispy on the outside. They should have a classic base and velvety top while having fluffy buttercream within. Thus, while making Macarons, do first things first like take eggs with room temperature and separate egg white from yolk gently and use your hands for this process. Gradually divide procedures of making macrons into the dry and wet mixture and then baking. By following our recipe at FoodPort, you will make your perfect macarons in the first attempt and enjoy them after successful baking. So let's start now.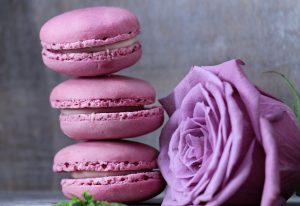 image source: https://pixabay.com
Ingredients
For Wet Mixture
3 x egg white Pinch of salt
¼ cup granulated sugar
½ vanilla extract A few drops of pink gel food color
For Dry Mixture
1 ¾ cups powdered sugar
1 cup almond flour
For Vanilla Buttercream
2 sticks of unsalted butter from room temp 3 cups sifted powder sugar
1 tsp. vanilla extract
4 tbsp. heavy cream
For Baking
1 piping bag 1 greased baking tray
1 parchment paper
Preparation Instructions
Preparing dry Mixture
To prepare the dry mixture, take almond powdered flour and 1 Tsp. salt in your food processor and make a fine powder, which doesn't have lumps or granules to make your macron smooth and soft. To ensure that your dry mixture is perfect for the smooth surface of macron, sift it 2 to 3 times and keep aside.
Preparing Wet mixture Move on to wet mixture, start from beating egg whites. Take a bowl and add 3 egg whites, which you separated from egg yolks and beat them with a pinch of salt by a mixer. While beating the eggs, add granulated sugar gradually and beat until it becomes that much stiff that if you try to lift your bowl upside down, it would not drop. After this, add vanilla extract, and beat again for a while. Now add 2 to 3 drops gel food color and beat the mixture to get pinkish color, be careful while adding color and only use gel food color to get pinkish real macaron Cookies.
Preparing Macaron Cookies Dough With the help of a spatula, mix dry ingredients with wet ingredients slowly and do not pour dry mixture at once. Gently mix them all to get a wet sand ribbon form and do not over mix the batter at all. As the batter is ready, move to the baking process and first place parchment paper on the baking tray.
Baking Macaron Cookies Now with a piping bag, make an inch and half of the size macron equally and then drop the tray 2 to 3 times on countertop to remove all air bubbles from the cookies. Let the macarons rest for 1 hour at room temperature to make them firm and non-sticky, the resting time will also rise macrons evenly without being de-shaped. Now, it's time to bake macron in the oven at 150°C for about 17 minutes. After baking, bring them out, let them cool on the same baking tray for 30 minutes. Now put all macrons on a dry rack from the tray and let them dry completely from both sides.
Preparing Vanilla Buttercream While macrons are drying, make its filling and for this take unsalted butter in a bowl and beat it with the mixer to make a rich creamy form. Once it is beautifully done, add sifted powdered sugar gradually and beat again. Now add vanilla extract and mix again. Add 3 to 4 tbsp. of heavy cream in butter mixture and beat till it gets smooth creamy form.
Final Step Once ready, fill the cookies from the center with buttercream nicely by using a piping bag again. Take the other cookie and place on cream and press the two cookies together, repeat this process with all cookies and that's it. Your perfect, creamy pinky macrons are ready to serve. Enjoy!
Tips and Tricks
After you are done with the creamy filling of macrons, it is advised to let them rest for 24 hours to enjoy a rich creamy taste and texture but if you can't wait you can take them right away. Always sift the powdered sugar and flour before using them into the batter to get a glossy surface of macrons. You can use a different gel color as per choice but pink is all times favorite. Make sure the stiffness of wet ingredients is guaranteed by flipping the bowl upside-down. While making buttercream you can also use gel colors to make filling colorful and exciting too.